Detroit's recovery a mixed blessing for used car market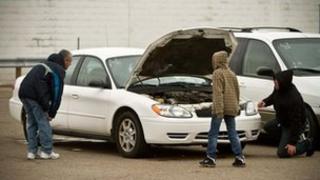 In many ways, this is the real Detroit motor show.
The new models and the audacious concept cars may all be downtown, glittering under the lights of the car industry's biggest annual fair.
But here, on the outskirts of the city, the cars that most Americans actually buy are lined up, row by row, under leaden January skies at the lot of Greater Detroit Auto Auction.
Twice a week, on Wednesdays and Saturdays, hundreds of people turn up to look them over and, if they like what they see, to bid.
These vehicles represent nearly the whole range of American rides.
Save for the brand new, they're all here - from the still shiny sports utility vehicle (SUV) repossessed by the bank, to the crumbling '82 Cadillac left behind in grandma's will, to what looks like every single Ford Taurus in between.
Blue collar
The man selling them is auctioneer Michael Maltese.
At sales at this and other auction lots around the area, he stands above the lanes of vehicles that roll bumper to bumper past the punters, and brings the hammer down on thousands of sales each year.
His bid call - that relentless, high-speed chant so characteristic of American auctions - has to cover this huge variety.
As one SUV appears in front of him, he's calling "Whatarewegonnado with this one? We gotta four-wheel-drive, we gotta sunroof."
Minutes later, as the next, rather more prosaic vehicle rolls past, he's on to "Whatarewegonnado with this one? We got all its windows, and all four tyres."
Down from the stand, between auctions, he's more softly spoken and direct.
"This is where the car market is," he says.
"This auction is right in the middle of blue-collar country, people who make $30,000 to $50,000 (£20,000 - £32,500) a year, and that's what's important.
"A lot of our country is made up of people like that."
Clunkers
Even before the US fell into recession, most of the cars Americans drove were second- and third-hand.
In any given month in the US, roughly three times as many used cars are sold as new ones.
And although the used car market did not collapse to the same degree that the market for new cars did, it still has struggled through a painful few years.
In what must have seemed a cruel irony, the US government's efforts to help Detroit's carmakers did terrible damage to the biggest sellers.
In an attempt to give the sale of new cars a boost, when the "Detroit three" - Chrysler, Ford and General Motors - were at their most fragile, the Obama administration set up a Cash for Clunkers programme.
This was a scheme that allowed anyone to trade in practically any vehicle that was still roadworthy (more or less), and get $3,500 or $4,000 (about £2,500) off the price of a new car.
One of the unintended consequences of that was to remove a significant amount of supply from car dealerships and auctions around the country.
Jeff Karpinski is the general manager of Greater Detroit Auto Auctions. "Cash for Clunkers really hurt our business big time, because it took a huge chunk of vehicles out of the market," he says.
"People were getting $4,000 for a car they could only have sold for, say, $800, but that's still a car that could have gone through an auction.
"It affected so many aspects of the used car market that it's taken a long time to recover from."
Cash
But - as with the new car industry displaying its recovery at the Detroit Auto Show right now - the used car business is also showing healthy signs of life again.
Truecar, which collects data on the used car market, estimates that there will be 38 million used car sales in 2012, a decent 8.5% increase on 2011.
Not that there aren't still many problems that could dent the recovery.
And as with Cash for Clunkers, those are often problems created in the new car business
One is credit.
As Jeff Karpinski says, "Some of the banks are now very tight with people because they've been doing so much stuff in the past, so a lot of people have bad credit. That's a big challenge to overcome."
Still, the consolation of this for the auction companies is that since they sell the full range of cars, when people are back to paying cash only the auctions are still where they end up looking for cheaper vehicles.
Janie Ann Robinson is one driver who previously leased a new car but decided she couldn't afford it any more.
At the auction lane at Greater Detroit she bids for a nine-year-old Ford Taurus with 118,000 miles on the clock.
After a short bidding battle, she approaches the sale counter to hand over $3,250 in cash.
She says she's very pleased with the purchase, since she needs a car to get to her new job.
"Anyway, we prefer cash deals for our cars now," pipes up her young daughter, Ayanna.
Dried up
The Robinsons' Taurus is one of the 500 cars that auctioneer Michael Maltese estimates he personally sells each week.
At those volumes he gets a detailed picture of the market, and right now he sees another worrying trend - the supply of the best, most desirable used cars has dried up.
"We should have a lot more three-to-four-year-old cars in the market," he says.
"And we really aren't seeing them out here."
The reason for that of course is that three to four years ago is when the market for new cars was falling apart.
From the 16.2 million vehicles sold in 2007, the market shrank by 35% in just two years.
In 2009 only 10.5 million new sales were made.
That means that relatively few of the used cars that people most want to buy even exist.
As Jesse Torpak of Truecar says: "The factory for the used car market is new car sales, and that factory hasn't been working too well."
Still, as the North American International Auto Show downtown shows, the factory is now starting to crank up its output.
Out on the auction lots, the buyers, the sellers and the auctioneers of America's biggest car market can only hope it gets back to full speed soon.