Pet insurance: The perils of inadequate cover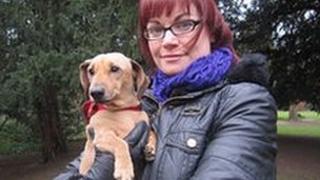 Life, buildings, contents, travel, health, phone - you name it, you can insure it.
Pet insurance is another option, but it looks as if many owners do not bother with it.
The Co-operative insurance firm calculates that 64% of people do not hold policies for their pets.
As a result, 29% of them end up putting off visits to the vet because of the cost.
So is it worth paying for cover?
Carrie Daniel is the proud owner of miniature dachshund Rufus.
When she bought him she took out insurance, so she would not have to worry about money if he ever became sick.
But when Rufus started limping and howling in pain, she found out that her cover was not sufficient.
He had ruptured a disc in his spine and needed emergency surgery.
By the time Carrie added up MRI scans, the operation and drugs, her bill came to £4,500.
"I thought I would be covered by my insurance policy, but no," she says.
"There was a cap of £2,500 per injury, so when I went flying past that, I had to pay the rest of it.
"I was absolutely devastated. I had to use all my savings, I just had to do it for Rufus," she adds.
'Constantly worried'
Carrie admits she only scanned through the small print when she took out her policy.
"There was obviously a more expensive option, but on what I earn I couldn't afford it," she says.
"It maybe didn't sink in as much as it should have, but I didn't think I would go past that limit.
"You can't think what's going to cost £2,500 or more on a dog," adds Carrie.
Since then, Carrie has found out that Rufus is likely to have the same injury again.
She says she is constantly worried about what she would do next time.
"I can't claim on anything to do with his back again, so whatever the cost was I'd have to pay for everything myself," she says.
"It really scares me because all my savings are gone," Carrie adds.
Cover varies
Pet insurance can be used for much more than paying vet bills.
Some policies will put up a reward if your pet goes missing, others cover property damage, and some even cover bereavement counselling for you if your animal dies.
There are hundreds of policies on the market and prices vary.
Specialist insurer Petplan says the right one depends on your pet's breed, age, gender and location.
For example, it charges anywhere between £120 and £360 a year for cats.
Petplan Director Neil Brettell says you get what you pay for.
"If you're going to pay a cheaper price for a policy, the benefits that you get are not as much as if you're paying a higher price," he says.
"It may look as if you're saving money in the short term, but if your vet bills run away with you, a policy that costs more every month will probably pay out for most, if not all of those bills."
Set limits
Financial research company Defaqto says the most common type of pet insurance is known as "per condition".
Like Carrie's policy, it has a set limit on how much it will pay out for each condition or illness over the animal's entire life.
Once that limit has been reached, the owner has to find the cash.
Some 35% of cat owners and 34% of people with dogs go for this basic cover.
More expensive options tend to give you greater peace of mind, especially if your pet has a long-term condition like diabetes.
Neil Brettell says few pet owners realise how expensive their animals can be.
"We as a business are constantly trying to do a lot of work to make people aware of the expense of vet bills," he says.
"If it's a road traffic accident for example, a cat can easily cost you £1,500 or £2,000.
"At the end of the day, it's what is right for the customers and their finances at that time - some cover is better than no cover at all," he adds.
Ask in advance
Neil Brettell's advice is for owners to take their animal to their vets before they take out insurance.
Vets can offer advice on what kind of illnesses certain breeds tend to get, and so suggest the right level of cover.
Another idea is to put by a certain amount of money in a bank account every month, so if your pet does get sick, you have some funds to fall back on.
It is also worth remembering that some pet owners who are on benefits, and who cannot afford vet bills, could be eligible for free treatment from the UK's largest veterinary charity, PDSA.