Easyjet amends its booking charge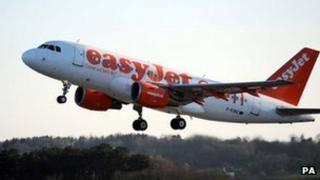 Airline Easyjet has amended its pricing amid government plans to ban excessive surcharges when buying tickets online.
The company has introduced a £9 flat administration fee to replace the previous £8 booking fee levied on anyone paying with most debit cards.
The government vowed in December to make online prices clearer so consumers could shop around.
However, Easyjet believes its new fee will not be subject to new legislation.
Meanwhile, in a separate development, Easyjet has been found guilty by a French court of discriminating against three disabled passengers in 2008 and 2009.
The court fined the airline 70,000 euros (£58,000, $90,000) for refusing to allow the three unaccompanied wheelchair users onto a plane at Charles de Gaulle airport near Paris, blaming security concerns.
'Transparent'
Consumers buying a ticket online are often charged extra when they tick a box that says they intend to pay using a credit or debit card.
Previously, Easyjet charged £8 for all bookings made with a debit card, except for those by Visa Electron. The charge for credit cards was £8 plus 2.5% or £4.95, whichever was greater.
Now all bookings will be subject to a £9 administration fee, to end the link to payment options, and be clear at the start of the booking process. The fee will not be affected by the number of passengers on each booking.
Advertising will include the fee, but adverts will often include prices based on the cost per person for a family of four.
There will still be an additional charge for credit card users to cover the extra handling costs.
"These changes have been made in order to address the concerns raised by consumer bodies and regulators across the EU whilst retaining a simple, transparent and consistent booking process for all passengers regardless of nationality," an Easyjet spokesman said.
The government said last month that it was planning to change the law by the end of 2012 so all "excessive" surcharges are banned.
'Improvement'
The Office of Fair Trading (OFT) calculated that travellers spent £300m on card surcharges in the airline industry alone in 2010.
The regulator said that it would not comment on individual company's decisions, but said that it still had concerns with the transparency and presentation of fees by some airlines.
The consumers' association Which?, which initially raised the issue in a supercomplaint to the OFT, said that Easyjet's move was a "step in the right direction".
"Although it is unclear why this charge for administration cannot simply be included in the cost of the flight, at least now people can see upfront what they'll pay in total," a Which? spokesman said.
"That is an improvement on the excessive fees charged by other airlines that only appear at the end of a long online booking process."
However, Bob Atkinson, of Travelsupermarket.com, said the charges could be confusing for customers and a lot more changes should be expected from airlines in the coming months.