Lloyds chief Antonio Horta-Osorio declines annual bonus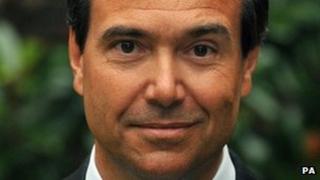 Antonio Horta-Osorio, chief executive of Lloyds Banking Group, has said he will not take an annual bonus for 2011.
He has just returned from a two month absence due to fatigue and acknowledged that had had an "impact" on the bank.
He also said his bonus should reflect the performance of the group, and "the tough financial circumstances that many people are facing".
Mr Horta-Osorio joined the board of Lloyds in January 2011 and became chief executive in March.
His basic pay is £1.06m a year, and he would have been eligible for bonus payments of up to 225% of that.
In a statement, Mr Horta-Osorio acknowledged that "my leave of absence has had an impact both inside and outside the bank including for shareholders".
Lloyds chairman Sir Winfried Bischoff said: "Under Antonio's leadership, the bank made significant progress last year in its transformation against a very difficult economic backdrop."
The bank announced on 2 November that Mr Horta-Osorio was to take extended leave because of a stress-related illness.
Shares in Lloyds - which is 41% state-owned - fell more than 60% in 2011.