Iran oil sanctions divide Asia's four largest economies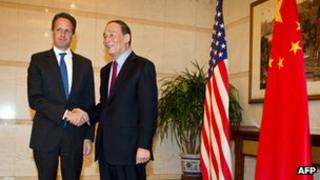 Oil has been one of the most politically sensitive commodities over the years. And now Asia's four largest economies are finding out how difficult it is to balance political will with economic reality.
As the US and European Union move to cut Iran's oil exports, China, Japan, India and South Korea are having to tread the fine line between international relations and national needs.
China, Asia's largest and the world's second-largest economy, is yet to give any hint if it will reduce its imports from Iran, despite a visit by the US Treasury Secretary Timothy Geithner to Beijing to discuss the issue.
The signals coming out of India indicate it is keen to continue its relationship with Tehran.
On the other hand, Japan says it will take steps to reduce its reliance on Iranian oil. While South Korea, Asia's fourth-largest economy, is likely to follow suit, despite not having committed to anything as yet.
The difference in their approaches and their respective stands, are likely to have a bearing not just on the oil market but also on the success of the embargoes and their impact on Asia.
"It will really depend on individual countries and how they embrace the European and and the US sanctions," Amrita Sen of Barclays Capital tells the BBC.
'Complex situation'
The main focus is likely to be the stand that China takes on the issue. Beijing is the largest importer of Iranian oil in Asia, accounting for almost 20% of all shipments from Tehran.
Any reduction in that amount is likely to hurt Iran. However, analysts say there is little chance of China making any such move.
"It is a complex situation as there is politics and economics involved," says Stephen Joske of the Economist Intelligence Unit.
"As far as politics is concerned, it was clear during the Arab Spring that China maintains a status quo against the governments in the region," he adds.
"On the economic front, China is far more reliant on imported oil than it has ever been in the past."
China's rapid growth in recent years has seen a surge in demand for oil in the country. Goldman Sachs has forecast that it will become the world's largest importer of oil within the next one-and-a-half years.
It currently imports almost 11% of its oil from Iran and analysts say given the huge domestic demand, it is unlikely that China will reduce the amount.
At the same time, China's political equation with the US may also play a part. Analysts say that Beijing is becoming increasingly wary of being told by the US on how to shape its policies.
"We are getting to a point where China is saying enough is enough, we are not going to be a part of this," says Tony Regan of business consultancy firm Tri-Zen.
'Securing future supplies'
India is also a major importer of Iranian oil in Asia and unlike China, it has far more cordial and closer political relations with the US.
However, Indian authorities are more likely to follow Beijing rather than Washington on this issue.
"They are both rising superpowers and both are huge consumers of oil," says Ms Sen of Barclays Capital. "For them price matters and since volumes are huge they don't want to get involved in any such plans."
Ms Sen adds that historically India and Iran have enjoyed good relations and they are likely to continue to do business together.
"This is about securing future supplies," she explains.
Any doubts of which way India may go have been laid to rest after the Indian government said it will send a delegation to Tehran this week to discuss oil supplies and ways in which it can settle payments with the Iranian Central Bank.
Toeing the line?
The US has found some support from its long standing ally Japan. The Japanese finance minister Jun Azumi, assured Mr Geithner during his visit to Tokyo last week, that it will reduce oil imports from Iran.
At the same time, South Korea's knowledge economy minister Hong Suk-woo has been quoted by the Reuters news agency as saying that though it was too early to say if it would cut imports, Seoul's "basic stance is to co-operate with the US".
Together Japan and South Korea account for more than 20% of Iranian exports and a big reduction from them will have a significant impact.
However, analyst say that despite the rhetoric from both sides, they are unlikely to make drastic changes.
"I don't think they will cut all imports. They will do just enough to show that they have made attempts to reduce these imports and replace them with other sources," Victor Shum of Purvin & Gertz tells the BBC.
"They want to get waivers from the US so that Japanese and Korean companies can keep doing business with Iranian Central Bank," he adds.
Japan's decision will also be influenced by an increased demand for oil after the earthquake and tsunami last year.
The twin disasters resulted in various nuclear power plants being shutdown. As a result utility providers have had to turn to thermal power stations which require oil to operate, resulting in a rise in demand.
The Japanese Prime Minister Yoshihiko Noda has said he will consult the business community before making a final decision on cutting any oil imports from Iran.
So even with the political will to stand by the US and European Union, Tokyo will have to first address the economic realities at home.