Space for growth in Detroit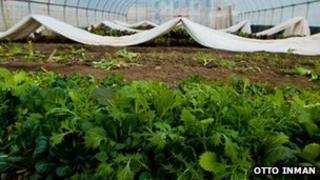 It is as if the buildings and streets of a whole city just need to bunch up a little.
Detroit's thousands of empty blocks and abandoned buildings make it a place where pockets of life and commerce are separated by eerie, desolate gaps.
If those gaps could only be filled, the city might not seem like America's emblem of industrial collapse, or an accidental experiment in how swiftly an affluent metropolis can be destroyed without war or natural disaster.
Fortunately, there are an increasing number of businesses, big and small, determined to fill in some of Detroit's gaps, revive its economy and reverse the experiment.
Growing optimism
One of them is the supermarket chain, Whole Foods Market.
Not only is it pressing ahead with plans to build a store in downtown Detroit, it is also involved in the efforts to redevelop the city's historic wholesale food centre, Eastern Market.
At a groundbreaking ceremony for work on the latest rebuilding at Eastern Market, Whole Foods' chief executive, Walter Robb, stresses his and his company's belief in Detroit's economy.
Their plans are not just about helping a city.
"I see shoots of green all the way when I look around here. I see a resilience, a commitment, a determination to bring this city up," says Mr Robb.
"The entrepreneur in me sees that happening and wants to be a part of that."
Detroit, in turn, is excited by Whole Foods' forthcoming presence.
There is certainly room for it.
Not just in the physical sense, but also in a grocery market that is shockingly underserved.
When Whole Foods opens its store, it will be the only major grocery chain to have an outlet in the entire city.
Urban farming
Despite (or maybe partly because of) the absence of major supermarket chains, a network for locally produced food is something for which Detroit is now widely praised.
Eastern Market is already vital to major farmers and food processors in the region.
The latest renovation is designed to make it an outlet and support for Detroit's swelling ranks of small-scale urban farmers and processors too.
The scourge of unemployment and the excess of cheap, abandoned property, have combined to make urban farming a growth area in the city's economy.
One of the farmers is Patrick Crouch, the programme manager for Earthworks Urban Farm.
On a few lots, where buildings once stood, right in the heart of the city, Earthworks grows vegetables, mostly for its parent organisation's soup kitchens, but also to trade and sell.
To Mr Crouch, the promise of economic growth that urban agriculture offers isn't just, or even mainly, in the growing.
"We talk about the urban food system, not just urban farming," he says, citing the range of services and products that farms like his need, and the businesses they in turn might supply.
He gestures to one of his greenhouses as an example.
"I bought that structure right there from a place in New Hampshire. That's ridiculous. Why didn't I buy it in Detroit? It's not like we don't know how to deal with steel."
Empty space
Detroit's turbulent history as a manufacturing centre is never far from any conversation about its economy, even agriculture.
After all, the collapse of heavy industry, particularly the shrinking of the auto makers is what drove so many people out of the city, over decades, leaving so much empty space, small parcels of which are being turned over to cultivation.
Yet now, downtown at the city's main exhibition space, a newly resurgent car industry is showing off its latest wares.
It is nothing on the scale of the mid-twentieth century golden age of Detroit, but it is profitable for all that, and anxious to see the local economy recover as well.
Fiat's chief executive, and the ultimate boss of Chrysler, Sergio Marchionne is just one executive who sees his company's revival as an integral part of Detroit's.
"This year's show", he says, "is an indication of the resurrection of the Motown we all grew up with."
'Growing things'
Michigan's political leaders are also swift to look for signs of a wider prosperity in the recovery of the auto giants.
Senator Debbie Stabenow is another sponsor of Eastern Market.
At the groundbreaking she says: "You don't have an economy unless you make things and grow things."
"We're here this week celebrating a new coming back of our auto industry that's making things. And we're here at Eastern Market, celebrating growing things."
Irresistible though such parallels are, they only extend so far.
The car industry was able to save itself, and may yet enjoy a future of significant growth partly because it was able to shrink.
However painful, the closing of swathes of their operations, allowed the "Detroit 3" to start again, at a size that fit the market in which they found themselves.
A city cannot do that, at least not very quickly.
Empty space
Detroit's shrunken population still has roughly the same space and many of the same buildings that 60 years ago served more than twice as many people.
So however creative, and however much support it gets from powerful backers, Detroit's urban food movement cannot possibly fill in all the space left by so much destruction in the manufacturing sector.
Which is why leaders are quick to point to the numerous corporations that, like Whole Foods, have decided to make bets on Detroit.
As Senator Stabenow puts it, "we are seeing chief executives run towards the city instead of away from the city", before she reels off a list of the bosses of Compuware, Quicken Loans and the Penske Corporation, among many others.
Detroit will need them all, and many more, if its awful, empty spaces are ever to be filled.
That and a lot more growth in its urban food sector.