Gurkhas set to 'bear brunt of 5,000 MoD job losses'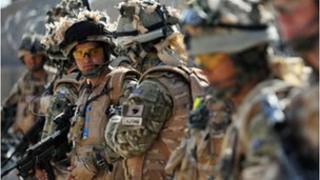 Gurkhas will bear the brunt of 5,000 armed forces job losses being unveiled next week, Whitehall sources have told the BBC.
The Ministry of Defence will announce its plans for a second round of redundancies in the armed forces next Tuesday.
These are part of the cuts already announced as part of the Government's defence review.
The army had already singled out the Gurkhas, arguing they were overmanned.
Under the government cuts, the army needs to reduce its total fighting force by 100,000 to 82,000 by 2020.
The RAF will need to make up to 1,000 redundancies in 2012, and the Royal Navy an estimated 500.
'Too many personnel'
Gurkhas are currently on active service in Afghanistan and are helping to train the country's newly formed police force.
But the MoD argues that the 3,500-strong brigade has too many personnel because it continued to recruit at the same rate after the length of service for Gurkha soldiers was increased in line with the rest of the army.
An estimated 140 Gurkhas lost their jobs in the first wave of MoD cuts last year.
"They are still overmanned," said one Whitehall source. "That is a long-standing problem."
On Tuesday the MoD will announce the areas where they need to make redundancies.
As before, they will first seek volunteers. The exact numbers will be announced in the spring.
A Ministry of Defence spokesman declined to comment on which troop areas would be cut.
He said: "Difficult decisions had to be taken to deal with the vast black hole in the MoD budget.
"Reducing numbers through redundancy is essential if we are to have smaller armed forces that deliver the best possible operational capability.
"We need to structure our forces to ensure that they are sufficiently flexible and adaptable to meet the demands of an uncertain future.
"The decisions are not easy, but they will help to defend the UK so that we are best prepared to meet the challenges of the 21st century."