Tycoon Asil Nadir denies 13 Polly Peck theft charges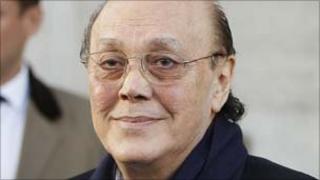 Former business tycoon Asil Nadir has pleaded not guilty to 13 charges of theft at the Old Bailey.
The 70-year-old faces charges relating to the alleged theft of £33.1m and $2.5m from his conglomerate Polly Peck between 1987 and 1990.
Mr Nadir was due to face trial on Thursday but this has been delayed, and he remains on conditional bail.
Polly Peck was one of the business success stories of the 1980s but it later collapsed with massive debts.
It had started out as a small fashion company but expanded into the food, leisure and electronics industries.
In 1990 Mr Nadir was listed 36th on the Sunday Times Rich List.