US retail sales continue upward crawl in December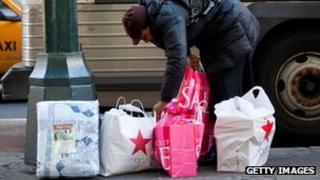 US retail sales continued their upward crawl in December, rising 0.1% in the month according to initial estimates.
It was the slowest growth rate in seven months according to the Commerce Department. But November's increase was revised up from 0.2% to 0.4%.
Spending at department stores and on electronic goods was particularly weak over the Christmas period.
Despite sales growth tailing off late in the year, December 2011's figure was up a healthy 7.7% compared with 2010.
Weak demand
Spending at electronics and appliance stores fell 3.9% in the month.
Core retail sales - which exclude volatile and price-driven items such as cars, petrol and building materials - fell 0.2%, suggesting that underlying consumer demand was weaker than the headline figure implied.
Consumption accounts for approximately 70% of the US economy.
Sales have now risen 20.4% above the low reached during the 2008-09 recession, and 5.9% above the pre-recession peak.
The December figure disappointed markets, which had been expecting an increase of about 0.4% for the month.