Twinkies-maker Hostess Brands files for Chapter 11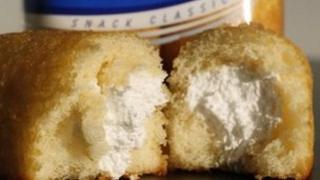 The maker of Twinkies, the well-known cream-filled sponge cakes, has filed for bankruptcy protection in the US.
Hostess Brands said it needed to start a legal process of reorganisation, as difficult economic conditions had exacerbated existing problems.
The confectioner said it needed to change its "uncompetitive" cost structure and labour contracts.
Hostess said these problems meant it had not been able to keep up with larger rivals in the industry.
The company, which is also behind the Wonder and Merita bread brands, as well as Drake's cakes, said it had received $75m (£48.7m) in financing from existing lenders to enable it to keep going while it reorganises the business.
It has asked the court for permission to enter into this financial agreement and to make changes to labour agreements.
"We have engaged in good-faith bargaining with our labour partners for many months. We remain hopeful that we can reach an agreement that will allow us to amend our labour contracts that we can emerge from Chapter 11 as a highly competitive company that provides secure jobs for our employees," the company said in a statement.
It told customers that all operations, from baking to retail outlets, would continue as usual.
Hostess Brands emerged from a five-year period in Chapter 11 bankruptcy protection in 2009.
It complained that its efforts to make itself more competitive during that time had not gone far enough, so further changes were needed.
But its boss expressed confidence in the future of the company, founded in 1930.
"Hostess has some of our industry's most powerful and resilient brands," said Brian Driscoll, president and chief executive.
"With generations of loyal consumers, numerous iconic products and a talented and experienced workforce, Hostess Brands has tremendous inherent strengths to build upon."
It employs just under 20,000 across the US and had revenues of $2bn last year.
Papers filed with US bankruptcy court said it had assets valued at up to $1bn and liabilities of about $1bn, much of which is owed to workers' pension funds.
Its biggest unsecured creditor is the Bakery & Confectionery Union pension fund, which is owed approximately $944.2m.