Little Chef to close 67 outlets costing around 500 jobs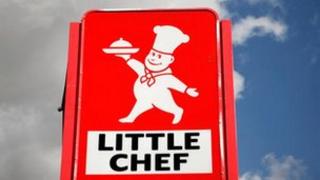 Motorway restaurant group, Little Chef, has announced it is to close 67 of its 161 outlets and make between 500 and 600 job cuts.
The firm has said the jobs being cut are a mix of full and part-time positions around the UK.
It is closing the restaurants because they are making a loss, it said.
Little Chef blamed the weak economy and the location of the branches for their poor performance. It will leave the company with about 1,500 staff.
The company said it would work to find alternative employment where possible for those affected by the store closures.
"We've got 161 sites, some very good, very profitable. Others suffer from a series of problems including high rents and demographic changes. I decided to make a strategic decision not to focus on those sites," Little Chef chairman Graham Sims told the BBC.
Overhaul
The group went into administration in 2007, after which the majority of its assets were bought by current owner, private investment business RCapital.
The company has had to respond to increasing competition from High Street supermarkets and coffee chains at service stations.
"Motorists' tastes have altered dramatically since the launch of Little Chef back in the late 1950s and they now expect far more than just sustenance, they require a whole customer experience, which their favoured High Street brands can offer," said, Tim Hipperson, CEO of marketing company G2 Joshua.
Little Chef has responded by revamping its remaining branches.
In 2008, several of its branches were given an overhaul by celebrity chef Heston Blumenthal for a reality TV show.
The company has also rolled out its "new concept" model to its other branches.
Mr Sims, who joined the firm three months ago and used to head BP's UK retail division, says Little Chef will have to diversify to compete.
"I can move Little Chef from being just a sit-down [restaurant] to one that combines sit-down with takeaway and also a retail offer. That sort of hybrid retail solution enables me to talk to other brands to bring them in to our properties."
Owners
Since its formation in 1958, the firm has been sold to a number of firms, including Granada and Compass.
Before entering administration, it was bought in 2006 by its then chief executive, Simon Heath, and the Peoples Restaurant Group.
Unions have criticised its current owners for failing to protect jobs.
"This is dreadful news for the employees in these restaurants due for closure," said GMB senior officer Paul Maloney.
Unions accused RCapital of selling Little Chef stores and then renting them back - increasing running costs at the business.
However, Mr Sims denies the claim.
"These sites were acquired by RCapital in 2007 and they were acquired as leaseholds. Someone before that had sold them and leased them back," he said.