City 'to be offshore currency market for China'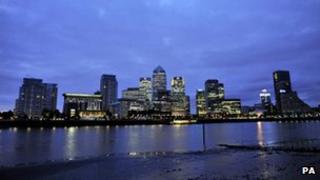 Talking to bankers and lawyers, there is growing optimism that the City of London will join Hong Kong as an offshore centre where the Chinese currency, the Renminbi, can be traded - and that an announcement on all this may not be far off.
If that were to happen, it would be quite a big deal - and would be the culmination of talks between the British Treasury and the Chinese authorities that are said to have made significant progress on this issue last autumn.
What may matter most, in a global context, is that this would be seen as a further step on the road to towards relaxation of China's strict controls of the value of its currency and on flows of capital. The RMB would be on its way to becoming a proper globally traded currency, commensurate with China's status as the world's second biggest economy.
But for the UK, there would be a boost both to business and jobs in the City and to the prestige and reputation of London as a global financial centre.
That would be some comfort to international bankers based in London, many of whom were alarmed that the UK's position in the single market - which they say is the main reason they work in the City - could be put at risk by David Cameron's recent decision to veto amendments to the European Union's treaty, which forced eurozone governments to conclude a new separate agreement in their efforts to save the single currency.
They believe an agreement between the Treasury and the Chinese authorities, that would see the City as an RMB offshore trading centre for the western time zone, could only be reached if the Treasury had persuaded China that the UK's commitment to the European single market, and its influence over it, had not been significantly weakened.
However, in a way it would be extraordinary if the City failed to win the new RMB trade, because it is on many measures the pre-eminent global financial sector, and there are powerful political reasons why the Chinese would be reluctant to give the putative privilege to Wall Street, the City's closest rival.
One City figure close to the talks told me he thought there would be a billion pounds of extra business and significant new jobs created almost overnight.
A senior banker told me his global firm would create a whole new team in London to trade the Chinese currency. "This would be very big for us", he said.
Lawyers would benefit too, said sources, by creating new RMB contracts that would be subject to English law.