Greggs sees Christmas sales rise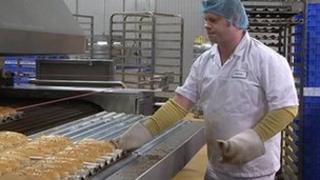 High Street bakery chain Greggs has seen a boost in its sales over the Christmas and New Year period.
Like-for-like sales, which strip out the effect of sales from new stores, rose by 5.1% in the 5 weeks to 7 January from a year earlier.
For the year as a whole, the Newcastle-based firm reported a rise in like-for-like sales of 1.4%.
The company said that increases in the cost of its ingredients had eased towards the end of 2011.
It opened a record 98 new shops during the year, closing 14.
However, the firm said it expected the economy to remain weak in 2012.
"We anticipate that the tough trading environment will continue during 2012, with consumers' disposable incomes remaining under pressure," said chief executive Ken McMeikan.