Murky politics behind fall of Swiss banker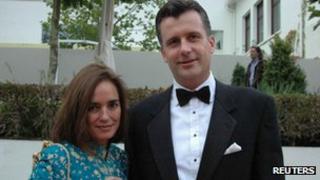 The resignation of Philipp Hildebrand as head of the Swiss National Bank (SNB) is front page news not just in Switzerland, but around the world.
His wife Kashya's questionable currency deals (Kashya Hildebrand used Swiss francs from the couple's joint account to purchase $500,000 just as the franc reached a record high, and only three weeks before her husband took measures to effectively devalue the franc) have cost him his job, and raised serious questions about his judgement.
But behind the headlines lies a much murkier tale of political intrigue.
Philipp Hildebrand, who took up his post in 2010, aged 46, was the youngest ever head of the SNB.
He began his job just as the Swiss financial sector looked to be recovering from a major financial crisis. Over-exposure to sub-prime mortgages had brought Switzerland's biggest bank, UBS, to the brink of ruin; it was only rescued by a government bailout.
Mr Hildebrand was instrumental in creating new "too big to fail" legislation requiring Swiss banks to reduce risk, and to hold more capital. It was a move which found favour in government circles, but earned him enemies among Switzerland's banking elite.
At the same time, pressure was growing on Switzerland to relax its strict banking secrecy and to hand over tax revenue owed to the US and European countries by their citizens who had put money in Swiss banks in the hope of evading tax.
Here again, Mr Hildebrand indicated he would like to see more openness from the banks - his stance aroused the anger of the right-wing Swiss People's Party, one of the staunchest defenders of banking secrecy.
European ties
Relations with Europe also became a stick with which to beat Switzerland's top banker.
Mr Hildebrand publicly acknowledged that the success of the Swiss economy was bound up with that of Europe's, and called for more openness and integration from non-EU Switzerland in its relations with Brussels.
This enraged the Swiss People's Party, which has long campaigned against closer ties with the EU.
When Mr Hildebrand announced a ceiling for the Swiss franc against the euro, in an attempt to protect Switzerland's export markets in the face of a soaring franc (60% of Swiss exports go to the EU) the People's Party accused him of trying to take Switzerland into the eurozone by the back door.
This despite the fact that Swiss business leaders, facing reduced orders and disappearing profits, had been begging the SNB to intervene.
Political sour grapes?
In fact, from the moment Mr Hildebrand took office, the People's Party has campaigned against him. Its charismatic leader, Christoph Blocher, made no secret of his contempt for the SNB's new chairman, suggesting he was too young and inexperienced for the job.
Some political commentators have suggested simple jealousy may also partly explain Mr Blocher's stance.
The Swiss Finance Minister, Eveline Widmer-Schlumpf, had replaced Mr Blocher in the Swiss government when he was ousted by parliament.
Her work with Mr Hildebrand on banking regulation raised her political profile, earned her praise in parliament, and increased her chances of staying in government, thus making a return by Mr Blocher much less likely.
In October's general election the People's Party failed to make much hoped for gains, and Mr Blocher himself did not win his campaign for a seat in Switzerland's upper house.
In December, the annual cabinet elections denied the people's party a second seat in government, Eveline Widmer-Schlumpf kept her cabinet position, and in January became Swiss president as well as finance minister.
'Dishonest rascal'
At the same time, Mr Blocher came into possession of the Hildebrand family's banking records.
It is not clear whether the IT worker and People's Party member who leaked them was actively looking for the records or whether he simply came across them, but what is clear is that he was apparently unprepared for how the People's Party would use the information he gave them.
Since the story broke in the media he has lost his job and it is rumoured that he has attempted suicide.
He has said publicly that he feels betrayed by the party and it is likely he will be charged with breaking Swiss banking secrecy laws.
Meanwhile Mr Blocher, and the Weltwoche magazine with which he is closely associated, remain unapologetic.
Despite having no concrete proof, the Weltwoche has publicly claimed that it was Mr Hildebrand himself who authorised the purchase of half a million dollars, calling him a "dishonest rascal" and an "insider dealer".
Errors of judgement
Mr Hildebrand of course cannot prove that he did not know about the currency transaction.
There is no way to rule out a late night or early morning conversation between husband and wife in their own home.
This, he said on Monday, was a key factor in his resignation: the inability to prove his innocence, and the mistake of allowing currency trades with his private money at all, had combined to create questions over his judgement which made his position as chairman of the SNB untenable.
Mr Hildebrand's resignation speech was dignified and brief. Nevertheless it is clear that both he and his wife were guilty of, at the very least, startling naivety.
The bigger picture, however, is that Mr Hildebrand was widely regarded by the Swiss government and by international financial experts as doing a good job under very difficult circumstances.
The Swiss economy faces a huge struggle to compete as the franc remains high, and the crisis in the eurozone continues.
Mr Hildebrand's successor, Thomas Jordan, must continue that struggle knowing that there are very powerful forces at work in Switzerland who will attempt to undermine him should he say or do something they don't like.
A coup?
One day after his departure, some sections of the Swiss media are already calling Mr Hildebrand's resignation a right-wing coup.
The Swiss People's Party, which actively campaigned for the controversial ban on minarets in Switzerland, is, thanks to billionaire Christoph Blocher, the best funded of all the political parties, and regularly spends three or four times more than other parties on election campaigns.
It was also recently revealed that Mr Blocher had secretly bought majority shares in one of Switzerland's biggest newspapers, the Basler Zeitung. Its new editor is a People's Party supporter.
And, asked whether his party had achieved its desired goal with Mr Hildebrand's resignation, Mr Blocher's response was chilling: "Our goals are not nearly so modest."
Swiss President Eveline Widmer-Schlumpf may be feeling understandably nervous that she could be the next target.