New retirees expect lower incomes in 2012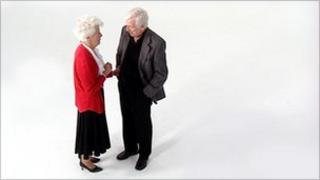 People about to retire this year expect their pensions to be lower than those who have retired in any of the previous four years.
A survey by the Prudential insurance company found that expected annual retirement income has dropped by £3,100 since 2008, to £15,500.
That includes income from state, company and private pensions.
A fifth of retirees expect to live on less than £10,000 a year, with the highest incomes being those in London.
Vince Smith-Hughes of the Prudential said: "The impact of the credit crunch, banking crisis, recession, and concerns over the eurozone, has been reflected in the fact that expected retirement income levels have hit a five-year-low."
A key factor has been the continued fall in the value of the annual pension that can be bought by a lump sum saved in a private pension fund. Annuity rates, as they are known, dropped by 8% in 2011.
That was their fourth consecutive annual fall, according to the financial information service Moneyfacts.
It was due to continued increases in longevity, and further reductions in the return, or yield, available from buying the government and company bonds needed to provide a guaranteed income in retirement.
Richard Eagling of Moneyfacts, said: "Unfortunately, by increasing the demand for fixed income instruments such as UK government bonds, the ongoing eurozone crisis and the Bank of England's quantitative easing programme have driven gilt and corporate bond yields down over the last twelve months, both of which underpin annuities."
Billy Burrows, a leading annuity broker, said: "At the beginning of 2011 the yield on 15-year UK gilts was 4.02% but by the end of the year the yield had fallen to 2.46%."
"Over the same period, our benchmark annuity fell from £5,834 per annum to £5,362," he explained.
The Prudential survey included 1,003 people who were due to retire this year.