HMV reports Christmas sales slump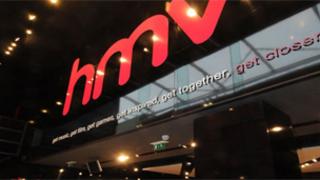 Troubled retailer HMV has reported a sharp fall in sales for the Christmas period but noted a slowing in the decline of its music and film business.
Like-for-like sales, which strip out the effect of shop closures, fell 8.1% in the five weeks to the end of the December. Total sales were down 16.6%.
The group reiterated concerns about its ability to trade in its current form.
Separately, research suggests 2011 saw a big jump in the number of retailers going into administration.
According to consultancy firm Deloitte, 183 retailers went into administration in England and Wales last year, 11% more than in 2010.
Technology
Last month, HMV warned it may be forced to sell its live music business.
Like-for-like sales for the last five weeks of 2011 at this part of the business were down by 1% against a year earlier, compared with a fall of 8.2% at HMV's retail business.
However, HMV said that there were signs that its attempts to refocus on technology products were starting to pay off.
Like-for-like sales in technology products at the 144 stores that have been refitted with a range of portable digital products were up 51%.
"The continuing actions to focus the business and to expand our technology offering are beginning to show through," said chief executive Simon Fox.
"We are seeing a combination of a slowing of the decline in music and film, and acceleration in the growth of technology.
"Undoubtedly trading conditions and the consumer environment remain challenging, but we remain confident in HMV's future prospects."
Store conversions
Technology products now represent 12% of HMV sales, from a standing start three years ago. It wants this to grow to 30% over the next three years.
HMV is attempting to refocus its business by offering more technology products, such as MP3 players, headphones and tablet computers, as well as live music and event ticketing.
The company has said it expects the impact of the store refits to be shown in its next set of results, as the work to convert stores took place towards the end of 2011.
However, analysts have questioned whether this strategy will be enough to turn HMV's fortunes around.
"There are far too many electronics retailers on the High Street and I don't see [the push towards technology products] as a massive differentiator or a long-term sales driver," Matthew Stych, research director at Planet Retail, told the BBC.
'Margin pressure'
Deloitte said the tough trading conditions on the High Street were likely to continue into 2012.
Blacks Leisure and La Senza have called in the administrators, while Barratts shoe stores and Hawkins Bazaar both entered administration last month.
"Many retailers would have been banking on the busy Christmas period to give them a much needed sales uplift, but retailers were forced into discounting at levels last seen in the aftermath of the collapse of Lehman Brothers, putting severe pressure on margins," said Lee Manning at Deloitte.
Although the number of retailers going into administration in 2011 rose, Deloitte said that the total number of companies that went into administration in England and Wales fell to 2,010, down from 2,086 in 2010.