Camera-maker Olympus could sue directors over cover-up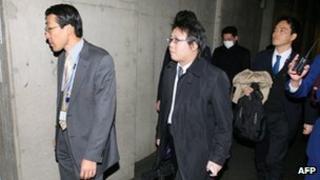 Olympus is considering suing its executives after an accounting cover-up at the firm called into question corporate governance in Japan.
The camera company said it had received the results of an investigation into management responsibility for the scandal.
It said it was now "considering legal proceedings against current and former directors".
Olympus has admitted that $1.5bn (£968m) in losses was covered up.
On Sunday, Kyodo news agency reported that the investigation panel had named Shuichi Takayama, the company's president since October, as one of 10 people who were responsible for failing to prevent the scandal.
The news agency, and other local media, reported that Olympus would seek damages of more than 90bn yen ($1.1bn; £759m) from more than 10 current and past executives, including Mr Takayama.
Four top Olympus executives have already lost their jobs over the scandal.
The company said it would announce details of the panel report, as well as its legal plans, on Tuesday.
Olympus itself is facing a lawsuit from its former chief executive Michael Woodford.
Mr Woodford was fired in October after he questioned payments made, which in turn lead to the revelation of the fraud.
Olympus also faces an investigation by Tokyo Police and other law enforcement in the US and the UK, the Tokyo Stock Exchange and regulators.