Unilever workers to stage strikes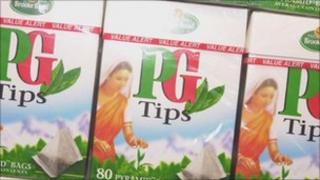 Thousands of workers at consumer goods company Unilever are to stage 24-hour strikes over pensions, unions say.
Leaders of the Unite, Usdaw and the GMB unions are to call strikes on eight sites across the UK for up to 12 days from 17 January.
They say the action at sites across the country will hit production of goods, including Marmite and PG Tips.
Unilever said it was "deeply concerned by the disproportionate action" the unions were taking.
The workers say the proposals to end the company's final salary scheme will cut retirement income for staff by up to 40%.
Some 2,500 mostly factory-floor staff are represented by the unions at Purfleet, Port Sunlight, Warrington, Leeds, Crumlin, Gloucester, Manchester, Burton-on-Trent and Ewloe, Wales.
Angry workforce
Unions added that the stoppages would hit production of the company's leading brands, including Dove, Marmite, PG Tips, Pot Noodle and Hellman's Mayonnaise.
In December, 2,500 workers - out of a workforce of 7,000 - took part in the first national strike at the company.
Jennie Formby, national officer of Unite, said: "It would seem that Unilever believed the workers would give up after one day's strike but they are badly mistaken.
"The workforce is angry that the company has refused to meet us or to attend talks at the conciliation service Acas."
Allan Black, national officer of the GMB said: "Unilever need to get the message that profitable companies will not be allowed to walk away from their savings commitments to their loyal workforce."
A Unilever spokesman said making a decision to change the pension scheme "was a tough but necessary choice which reflects the realities of rising life expectancy and increased market volatility.
"We believe the provision of final salary pensions is a broken model which is no longer appropriate for Unilever.
"It is our responsibility to protect the long-term sustainability and competitiveness of our business, and to do so is in the best interests of our people."
The new pension arrangements were "exceptionally competitive" and enhanced following feedback from its consultation with employees.