Third ratings agency gives Hungary a junk credit rating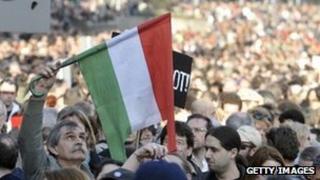 Fitch has become the third ratings agency to cut Hungary's credit rating to junk status.
The agency blamed "unorthodox policies" for its decision to cut the country's rating from BBB- to BB+.
Hungary's centre-right government has been accused of undermining the central bank's independence and imposing losses on the country's foreign-owned banks.
The country is attempting to resolve a stand-off with the International Monetary Fund over a new loan facility.
One of the biggest challenges facing the country is the large amount of foreign-currency mortgages, particularly those denominated in Swiss francs, which have been taken out by home-buyers in recent years.
Hungarians were attracted by the cheap interest rates available, but face impossible debt repayments as the Hungarian forint loses value.
"The downgrade of Hungary's ratings reflects further deterioration in the country's fiscal and external financing environment and growth outlook, caused in part by further unorthodox economic policies, which are undermining investor confidence and complicating the agreement of a new IMF/EU deal," said Matteo Napolitano of Fitch's sovereign ratings division.
The Hungarian government has sought to agree a standby facility with the IMF, but talks broke down over a new law that strengthened the government's control of the Hungarian central bank's governing board.
Fitch follows Moody's and Standard & Poor's, which also cut their ratings for Hungary to junk levels in recent weeks.