Volkswagen sells record 5.1 million cars in 2011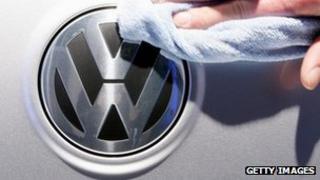 Volkswagen, Europe's biggest carmaker, has announced record car sales for last year.
The German firm sold 5.1 million cars worldwide in 2011, a rise of 13.1% on the previous year.
Europe and China were the company's biggest markets, with 1.72 million cars sold in each.
VW said that new versions of models such as the Passat, Jetta and Beetle, had made "an excellent start in difficult market conditions".
It added that it expects conditions to remain challenging in 2012.
The carmaker recorded strong growth across all of its regions, with the exception of South America, where sales rose by just 2.2%.
"Volkswagen Group [is] forecast to maintain its fast growth rate," according to the consultancy firm KPMG's annual survey of 200 executives in the global motor industry.
Some 70% of the respondents said Volkswagen would gain, with only 4% saying they doubted it.
In addition to the Volkswagen brand, the Group owns a string of subsidiaries, ranging from luxury marques such as Lamborghini, Bugatti and Bentley, to brands such as Audi, Skoda and Seat.