UK car registrations fall 4.4% in 2011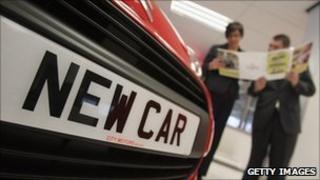 Car registrations fell 4.4% in 2011 to 1.94 million, an industry body says.
It is the lowest number of registrations in more than a decade.
The fall in demand for new cars, which continued in December with a 3.7% drop compared with a year earlier, contrasts with a strong rise in UK car production in the last six months.
Diesel and other non-petrol cars continued to gain market share last year, the Society of Motor Manufacturers and Traders (SMMT) said.
Car registrations remain 25% below their peak of 2.58 million, recorded in 2003.
It is only the second time the figure has dropped below two million mark since 2000; the other occasion being the recession year of 2009.
'Tough trading'
The overall 4.4% fall in demand last year was not quite as sharp as expected according to the SMMT, which had been predicting a total of 1.92 million.
"2011 proved to be a challenging year for the UK motor industry," said Paul Everitt, SMMT's chief executive.
"Weak economic growth will make trading conditions tough in 2012."
The SMMT predicted sales would remain stable this year and start to rise more strongly from 2013.
The fall in demand in 2011 was exaggerated by a boost to 2010 car registrations from the government's car scrappage scheme, which subsidised new car purchases.
Demand from businesses for fleet cars continued to rebound, rising 4.7% to over one million.
Registrations by private buyers, meanwhile, fell further behind, dropping 14% in the year to 823,094.
"2011 has indeed been a challenging year for the UK motor industry, and once again, it has business fleets to thank for purchasing nearly 60% of all new cars sold," said John Lewis, chief executive of the British Vehicle Rental and Leasing Association.
"The coming year could be even tougher and we expect fleet customers to continue to dominate the new car market."
League tables
The Ford Fiesta was the most popular new car.
Small cars generally did well, with the Volkswagen Golf topping the league table among diesel cars.
The shift towards small cars, combined with regulatory requirements and new technology, helped push the average carbon dioxide emission rate on new cars to a record low last year of 138.1g per km, down 4.2% from 2010.
For similar reasons, average fuel efficiency also hit a new high of over 52 miles per gallon.
Diesel cars increased their market share to 50.6%, the first time they have taken a majority share.