Swiss oil refiner Petroplus sees credit lines blocked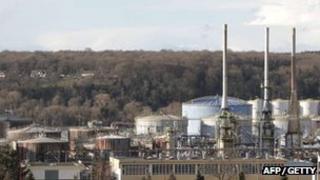 The crisis at European refiner Petroplus deepened on Thursday after lenders extended a freeze on its borrowing.
Last week the company reported that a $1bn (£649m) credit line had been cut off by its lenders.
Thursday's news extended that to all of its borrowing capacity.
The company said its Coryton refinery in Essex is still running normally, although below full capacity. Coryton accounts for 10% of UK capacity.
The firm said it is in negotiations with its banks to try to restore its access to credit.
If it fails to do so it may have to close its refineries, though this is not expected to affect supply to drivers.
The firm said its Petit Couronne plant in France was in the process of being shut down while its Antwerp refinery in Belgium would start a safe shut down in the coming days.
"It's rather severe. According to my calculations, given the normal throughput they have, they can only keep operating until mid-January," said analyst Andras Escher from Vontobel.
The biggest problem the company faces in the short term is purchasing oil to process and sell.
Investor
Therefore the firm is also talking to oil companies to secure supplies of oil - and funds.
"We will do everything we can to avoid bankruptcy, an alternative solution lies in an oil company that could give us oil but also credit lines. Negotiations are under way," said chief executive Jean-Paul Vettier.
Petroplus has 4.4% of European refining capacity but the industry has struggled with over-capacity, low margins and competition from cheaper Asian refiners.
The company's shares have fallen more than 80% since the start of 2011.