Mercedes-Benz sees record sales in 2011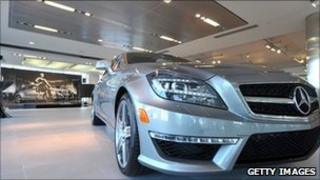 German carmaker Daimler has said it sold a record number of Mercedes-Benz cars in 2011.
Sales of the brand rose 8% to a total of 1,260,912 last year, Daimler said.
Including the Smart car and luxury Maybach brands, Daimler sold 1.36 million cars in 2011. The company had sales records in China, Russia, and India.
Deliveries in the US climbed 13% to 245,231, and in China they were up 31% to 193,339.
But sales in Western Europe, hit by the eurozone debt crisis, fell by 1% over the year.
Demand for Mercedes-Benz's large SUV models broke sales records in each of the 12 months of last year.
"In 2012 we will consequently continue our product offensive and launch additional attractive vehicles on the market, which will give us a further boost," said chief executive Dieter Zetsche.
In November, Daimler announced it will disband its ultra-luxurious Maybach car marque due to poor sales.