UK service sector 'surprisingly buoyant' in December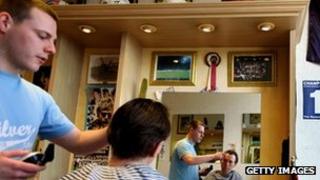 Activity in the UK service sector grew in December at its fastest rate since July, according to the latest purchasing managers' index (PMI).
The PMI for December was 54.0, up from 52.1 in November. Any figure over 50 indicates that the sector is growing.
But confidence about the future remains subdued, with business expectations matching September's two-and-a-half year low.
The report's author described conditions as "surprisingly buoyant".
"The December survey rounds off a reasonable fourth quarter for the service sector, which is likely to again provide the main stimulus to overall economic growth," Chris Williamson added.
The service sector accounts for more than 70% of the UK's economic output.
'Skirt recession'
PMI figures released on Tuesday showed UK manufacturing saw a smaller-than-expected decline in December, thanks to new orders from Germany, China and eastern Europe. The PMI figure rose to 49.6 from November's figure of 47.7.
On Wednesday, PMI figures for the construction sector - which accounts for 10% of GDP - showed the index rose to 53.2 in December compared with 52.3 the previous month.
"The UK CIPS/Markit report on services has followed the sister manufacturing report in improving in December, but the recovery still appears to have ground to a halt in Q4," said Vicky Redwood at Capital Economics.
"A weighted average of the surveys over Q4 as a whole points to overall GDP doing little better than stagnating."
Neville Hall, at Credit Suisse, said: "It does suggest that, after what looks as if it could be a pretty poor fourth quarter of 2011, as if the economy has regained a bit of momentum going into 2012."
"And that probably means that even if the fourth quarter growth numbers are negative the UK could successfully skirt recession rather than go through another double dip."
Defaults rising
In a separate report from the Bank of England on Thursday, lenders said they did not expect much change in their ability to lend to companies in the first quarter of 2012.
However, the demand for loans specifically from small companies had fallen sharply in the past three months and was expected to drop again.
And defaults on loans already made to medium-sized and large firms had risen in the past three months, for the first time in two years.
"Lenders commented that this trend reflected a combination of a deterioration of economic conditions and some companies having used up their room for remedial action," the Bank of England said.