JJB Sports posts 5% sales rise during Christmas trading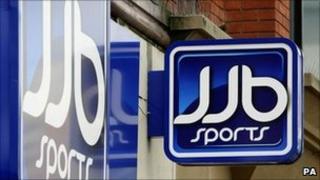 JJB Sports has reported improving Christmas sales, but says sales since the start of August have been down.
Like-for-like sales, which include stores that have been open at least a year, rose 5% in the four weeks to 26 December. Its cash margin rose 6%.
Like-for-like sales for the 21 weeks to 26 December were down 7.8%, although that was still better than a 17.7% fall reported for the previous six months.
JJB said its trading had improved in an "extremely challenging" environment.
"Our overall trading has improved in the second half of the financial year and we achieved a Christmas trading performance broadly in line with our expectations in the face of an extremely challenging consumer environment," said chief executive Keith Jones.
Its expectations were most recently lowered in October, when it said its full year results were likely to be worse than previously predicted.
The Wigan-based retailer is in the process of a restructuring programme that includes closing 43 of its stores.
"On the surface this looks like a positive update, however, it has to be set against extremely soft comparatives from Christmas last year when sales were down 15.7% because of bad weather and stock availability issues," said Neil Saunders from the retail consultants Conlumino.
"As JJB has closed underperforming stores throughout 2011, total sales will be nowhere near as rosy as the 5% like-for-like figure and probably more accurately reflect the overall position on the High Street in December, which can best be described as muted."
JJB has stressed the importance of this year's January sales, and trading around the forthcoming European football championships and this summer's Olympics.