China's trade surplus narrows for a third straight year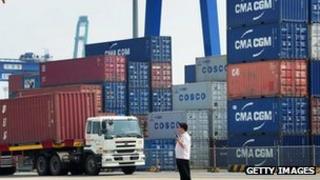 China's trade surplus has narrowed for a third straight year as demand for its products weakened in the US and Europe.
Commerce Minister Chen Deming said the surplus was around $160bn (£103bn) in 2011. That compares with a record of $295bn in 2008.
China has warned that its export growth will come under more pressure this year as US and European economic problems persist.
The government has been trying to boost domestic demand as a result.
Connie Bolland, the chief economist at Economic Research Analysis, said that she expected the trade surplus to shrink further to $100bn in 2012.
"China will have to come up with other ways to boost its domestic demand to make up for the loss in trade surplus that is expected in coming years," said Ms Bolland.
Beijing is anxious to prevent a sharp slowdown in the economy but at the same time wants to avoid reigniting inflation, which hit a three year high of 6.5% in July but has since slowed.
In a bid to boost growth and counter economic turmoil in Europe and the United States, authorities in December cut the amount of money banks must hold in reserve for the first time in three years.
China will release more detailed trade figures next week.