Government launches appeal against solar tariff ruling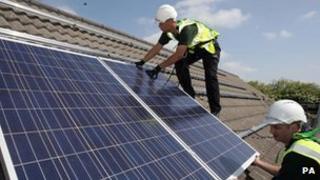 The government has launched an appeal against a High Court ruling that blocked its plans to cut subsidies for solar panels on homes.
The case involves attempts to halve the payments made to households with solar panels, which the government says are at an unsustainably high level.
Labour said the appeal would only add to the uncertainty facing the industry.
Thousands of jobs could be lost as a result of the reduced subsidies, businesses and campaigners fear.
"Instead of wasting more money on legal fees, the government should go back to the drawing board and bring forward more measured proposals that guarantee the continued growth of the solar industry, [that] put feed-in tariffs on a sustainable footing and are fair to the public," said shadow energy secretary Caroline Flint.
The Department for Energy and Climate Change said it wanted to secure a hearing as soon as possible.
"Without an urgent reduction in the current tariffs, which give a very generous return, the budget for the scheme would be severely depleted and there would be very little available for future solar PV generators, or for other technologies," it said in a statement.
Under the feed-in tariffs programme, people in Britain with solar panels are paid for the electricity they generate.
The new tariff of 21p per kilowatt-hour, down from the current 43p, had been expected to come into effect from 1 April, but in October the government said it would be paid to anyone who installed their solar panels after 12 December.
The tariff for surplus electricity exported to the national grid remains 3.1p per kilowatt-hour.
The government announced a consultation on the proposals which closed on 23 December. The High Court ruled that changing the tariffs before the end of an official consultation period was "legally flawed".