Microsoft sues Comet over 'counterfeit' recovery CDs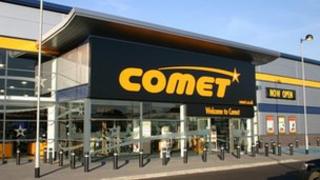 Microsoft has announced that it is suing the electrical retailer Comet for allegedly producing and selling 94,000 counterfeit Windows recovery CDs.
The US company alleged the CDs were produced at a facility in Hampshire.
It said the CDs were then sold to customers with the Windows operating system installed on their PCs.
Comet said its actions "did not not infringe Microsoft's intellectual property" and said it would defend its position "vigorously".
David Finn, a legal adviser on software piracy at Microsoft, said: "Comet's actions were unfair to customers. We expect better from retailers of Microsoft products - and our customers deserve better, too."
In a statement the UK retailer said: "Comet has sought and received legal advice from leading counsel to support its view that the production of recovery discs did not infringe Microsoft's intellectual property."
In the same statement, Comet said it was acting in the interests of its customers.
"[Comet] believes its customers had been adversely affected by the decision to stop supplying recovery discs with each new Microsoft Operating System based computer."
Shares in Kesa, Comet's parent company, fell 8% on the news.