'Car usership': Motor industry adjusts to future demands
By Jorn Madslien
Business reporter, BBC News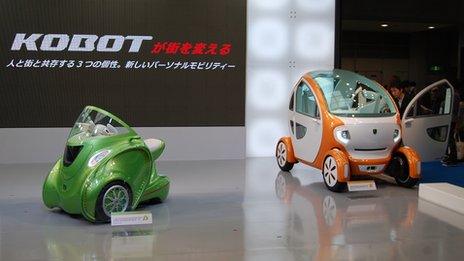 "The world is moving from car ownership to car usership."
The statement, made in the consultancy firm KPMG's annual survey of executives in the global motor industry, neatly summarises how carmakers are being forced to adapt to dramatic changes in society.
Tomorrow's drivers will be much less interested in owning the cars they travel in, industry executives predict.
Indeed, in some cases many will expect the car to do the driving, leaving passengers free to surf the web or talk to friends via video links.
Such changes to the way cars are acquired and used, as well as to how they enter the information highway that leads them to the connected generation, raise profound questions about existing carmakers' ability to adapt.
After all, it is not a given that established car companies, which are best known for manufacturing metal objects on wheels powered by combustion engines, will be best placed to deliver tomorrow's mobility solutions.
To succeed in the future, the carmakers must conquer a number of technologies, according to Mathieu Meyer, KPMG's global head of automotive.
"The main industry players need to figure out the best ways to develop technologies that will drive future revenues," he observes in the survey.
The first thing they must do is learn to produce lightweight electric cars, which over time might be replaced by hydrogen-powered cars.
Such developments will be closely linked with a sharp and persistent rise in demand for urban vehicles as the number of mega-cities continues to grow, industry executives predict.
Electrification is set to become a key feature of motoring, both as a power source in hybrid cars that combine batteries and combustion engines as well as a way to control brakes, steering and infotainment systems.
But as the number and size of cities surges in the years and decades ahead, it will no longer be enough to merely deliver the right vehicles.
In addition, car companies must become mobility service providers by offering "intelligent mobility services", such as car sharing for people who cannot afford or who do not want to own cars, according to KPMG.
Other services could include everything from satnav guides to available parking to sophisticated driverless taxi services within urban areas reserved for such autonomous vehicles.
In-car internet connectivity is another service that could prove lucrative for those who deliver it and costly for those who do not, motor industry executives predict.
"Global car executives believe that as consumers become accustomed to instant access at home and in the office, they will expect the same services when on the move in their vehicles," says John Leech, KPMG's head of automotive in the UK.
Such services include access to music and to the internet, as well as automotive-specific services such as satellite navigation that communicates with other cars and with broader traffic control systems.
"In the future, connectivity will not simply be a 'nice to have' feature, but an intrinsic part of a vehicle," according to Mr Leech.
The increasing complexity of the global automotive industry is expected to force established carmakers to lower barriers to entry.
In other words, in the future they will either have to embrace new partners - ranging from manufacturers in emerging economies such as China or India, to technology firms specialising in online connectivity, electric components or new materials - or they may have to square up to them as rivals.
Automotive executives predict that Chinese manufacturers will soon emerge as global players, exporting from their factories at home.
In addition, suppliers - whether of electric parts or of lightweight materials such as carbon fibre - are becoming more influential.
With new players entering the industry come new concepts and business models that challenge established players, forcing them to redefine what their core competencies are.
Most established automotive firms are expected to reinvent themselves by collaborating with or acquiring technology companies that are experts in areas such as new materials or connectivity.
But when it comes to technologies that aim to reduce fuel consumption and emissions, they tend to opt for in-house research - at times aiming to cut costs by collaborating on specific projects with rivals.
None of the choices the industry executives will have to face going forward will be easy, but they are well aware that those that fail to act will lose out in the long run.
"Automotive executives have plenty to think about," says KPMG's Mr Meyer, "as they navigate the new urban landscape and determine the role their company plays."