Analysis: What is behind Nissan UK's success?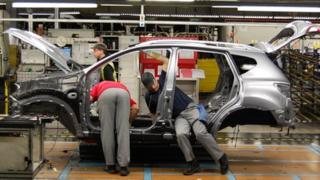 The UK arm of the Japanese carmaker Nissan has every reason to cheer, having reported a 14% rise in production during 2011 to more than 480,000 cars.
Even before the announcement that it is to build the new Invitation car, Nissan's Sunderland plant enjoyed surprising success with its Qashqai crossover model, and this has been succeeded by the also successful Juke, a similar but smaller crossover vehicle.
In Europe, Nissan sells one in four crossovers, which combine the high ride of 4x4s with the fuel economy and driving style of ordinary cars.
But beyond its ability to deliver the right models at the right time, the plant has also benefited from the historically strong yen against sterling, which has made it more attractive to produce in the UK.
And with the pound being historically weak against other key currencies, especially the euro, much of the Nissan production is shipped abroad. So much, in fact, that Nissan is now the UK's biggest car exporter.
'Quality and efficiency'
Sunderland's success in attracting investment from its parent company also rests on the plant's reputation as a particularly efficient car factory, as well as its close relationships with local suppliers and its ability to support new ones.
Nissan's chief executive Carlos Ghosn, who is also the chief of French carmaker Renault, is well aware that "the Sunderland plant is setting an important benchmark for quality and efficiency in Europe and around the world".
Which is why he is investing some £420m to produce the electric Leaf here, as well as to make lithium-ion batteries for both Renault and Nissan.
Sunderland is also expected to be a major supplier of cars as Nissan continues to ramp up its European dealer network, adding some 1,000 new dealerships between 2006 and 2014 in an effort to overtake Toyota.
Nissan's investments in the north east, which have boosted employment in the otherwise economically depressed region, have been warmly welcomed by the government, which deems the car industry's contribution a vital contributor to its strategy to bolster manufacturing and thus rebalance the UK economy.
Attracting investment
Indeed, Nissan's strength is by no means unique in today's UK motor industry.
"Eleven of the global volume manufacturers have bases here, backed by 19 of the world's top 20 suppliers," Business Secretary Vince Cable said last year during a dinner arranged by industry body SMMT.
In 2011 alone:
Industry production in the UK edged up to an estimated 1.35 million cars, representing strong growth over the last two years, though the overall figure remains well below the peak
Bentley sales bounced back to levels last seen before the credit crunch
Rolls-Royce saw sales soar to record levels
Jaguar Land Rover announced plans to build a a £700,000 supercar with Williams F1, invest hundreds of millions of pounds in new manufacturing facilities, and create hundreds of jobs
Opel/Vauxhall said it would produce its next Vivaro van in Luton
Formula 1 firm McLaren started a new road car division, complete with a brand new factory
Aston Martin announced it would produce its Toyota iQ-based citycar Cygnet in the UK
MG announced plans to design, engineer and build its new MG6 GT in the UK
BMW announced an additional £500m investment in its UK Mini and engine plants
Toyota announced plans to build its new Auris in the UK
CPP Global Holdings said it would build the Jensen Interceptor in the West Midlands.
"The year saw the UK attract a remarkable level of investment, with global vehicle manufacturers committing in excess of £4bn to plants and facilities, securing future model production and employment," observes SMMT's chief executive, Paul Everitt.
"Despite the uncertainty within the eurozone, there is real confidence in the future of UK manufacturing.
"It will make an increasing contribution to exports, economic growth and employment in the coming years."