John Lewis sees 'outstanding' Christmas sales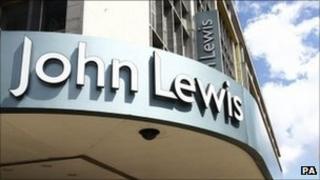 John Lewis has reported an "outstanding" rise in sales at its department stores during the Christmas period.
Like-for-like sales - which strip out the effect of changes in retail space - were up 6.2% from a year ago.
The retailer said total sales of household goods (up 13.6%) and fashion (10.3%) were particularly strong in the last five weeks of 2011.
It claimed a bigger market share in both sectors as well as in electronics.
Total sales for the period rose 9.3%, thanks in part to the opening of three new stores last year.
"Sales during the four weeks to Christmas Eve were outstanding," said Andy Street, John Lewis managing director.
"During that period, we broke the record for our biggest week ever with a sterling total of £133.1m for the week ending December 17th."
'Cracking' trade
However, John Lewis conceded that its performance was weaker in the first week of the post-Christmas sales period, down 4.8% from a year ago.
The firm, which has 35 John Lewis stores in the UK, pointed to the boost given to sales in the last week of 2010 by customers rushing to buy more expensive items ahead of the VAT rise at the beginning of last year.
Neil Saunders, of retail research agency Conlumino, said: "By any measure John Lewis has had a cracking Christmas and is probably the standout winner in terms of trading.
"The only slight cause for concern is on the margin front," he added.
"While John Lewis will have had a profitable Christmas, margins are likely to have been eroded by price matching, and this will result in lower profitability for the full year and a reduced bonus pool for partners."
The figures came the same day as somewhat mixed results from fellow retailer Next.
The clothing chain saw a 2.7% drop in Autumn and pre-Christmas sales at its High Street stores, although this was offset by a big jump in sales at its online business.
Other retailers who have yet to report are expected to unveil superficially strong growth figures, after Christmas trading a year ago was hurt by poor weather.
However, John Lewis's sales growth is unlikely to have been flattered in this way. A year ago the firm said its department stores actually saw a late surge in business thanks to the early winter snow, as customers were afraid that late online orders may not be delivered in time.
Mr Street at John Lewis remained cautious about the business outlook for the year ahead.
"Trade in 2012 will undoubtedly be challenging and economic conditions volatile," he said.