Mortgage lending still stagnant, Bank figures show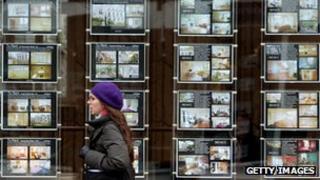 Mortgage lending to home buyers is likely to keep on stagnating in the coming months, figures from the Bank of England suggest.
In November 2011, just 52,854 mortgage loans were agreed in principle for home buyers.
Although this was 12% higher than in November 2010, the figures have barely changed for the past four months.
Mortgage approvals are still less than half the level recorded in the run up to the banking crisis in 2007.
Howard Archer at IHS Global Insight said: "Housing market activity remains very weak compared to long-term lows and has been unable to develop significant upward momentum."
"With the economic environment looking decidedly worrisome, we believe that house prices are headed downwards in 2012," he added.
Although about 40% of all residential sales go through without the buyer having to take out a mortgage, the number of mortgages approved, but not yet lent, has traditionally been a very good indicator of short-term trends in the property market.
So far there has been little sign of a relaxation in the strict mortgage rationing by banks and building societies, which has been going on since 2008.
This has led to many first-time buyers being frozen out of the property market as they have been unable to raise the typical 20-25% deposit often required of them by lenders.
As a result of this, and the rise in unemployment, many commentators are expecting sales to stay low this coming year, with prices expected to fall, possibly by as much as 10%.