Eurozone service sector downturn slows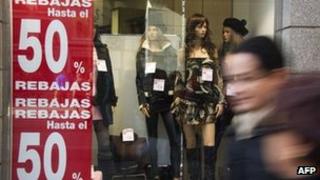 The downturn in the eurozone service sector slowed in December, according to a closely watched survey.
The Markit eurozone service purchasing managers' index (PMI) was 48.8 in December, a three-month high. Any score under 50 represents a contraction.
It follows a better-than-expected manufacturing survey of 46.9, up from 46.4 in November.
However, Markit said the survey results still indicated the eurozone risked falling into recession again.
"The uplift in the eurozone PMI in December does little to dispel fears of the region sliding back into recession," said Chris Williamson, chief economist at Markit.
The two surveys helped improve the composite index for December, which includes services, construction and manufacturing, increase to 48.3 from 47 in November.
'Further decline'
The survey also found an increasing gap between the stronger eurozone economies, such as Germany and weaker countries such as Spain.
Business activity improved in Germany and stabilised in France, but fell sharply in Italy and Spain which are struggling with large deficits and austerity measures.
Despite the improvement in December, the survey reported the worst quarterly performance for the eurozone economy since the second quarter of 2009.
"Forward-looking indicators suggest that a further decline is on the cards for the first quarter of 2012," said Mr Williamson.
"In particular, orders for goods and services continued to collapse, suggesting that output and employment will be cut as we move into the new year," he added.