Chinese oil company Sinopec agrees $2.2bn US shale deal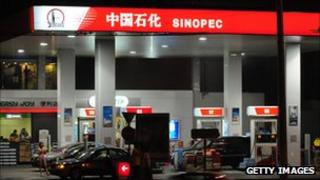 Chinese oil firm Sinopec has agreed a $2.2bn (£1.4bn) deal with Devon Energy, giving it access to shale deposits in the US.
Sinopec will get a one-third stake in five new shale projects, with the firms expecting to drill 125 wells this year.
China has been buying energy sources to feed its fast-growing economy, and wants to improve its ability to extract domestic shale deposits.
China has some of the biggest shale deposits in the world.
'More exposure'
Analysts said that the recent increase in demand for shale oil and gas meant that many companies were now looking to tie-ups to help them expand quickly.
Sinopec, meanwhile, is not alone in trying to access US shale deposits, and France's Total announced a separate $2.3bn shale deal with Chesapeake Energy and EnerVest.
"It looks like the preferred transaction structure for a lot of these players, whether they are European or Asian, who are behind the curve on this technology," said Mark Hanson of Morningstar.
"The more exposure they get, the better."
Under the terms of the deal with Devon, Sinopec will pay $900m in cash, with the remainder of the investment being paid by the end of 2014.
The deal could be worth as much as $2.5bn when all the payments are made.
"This arrangement improves Devon's capital efficiency by recovering our land and drilling costs to date and by significantly reducing our future capital commitments," John Richels, Devon's president and chief executive, said in a statement.
Not just shale
China's hunger for energy sources has also seen it snapping up other global deals.
On Tuesday, another big Chinese oil firm PetroChina announced a major deal giving it access to Canadian oil sand reserves.
The company owned a 60% stake in the Mackay River oil sands project, and said it had bought the remaining 40% share for $673m.
Last month, China National Petroleum Corporation won an approval for oil exploration and extraction in Afghanistan.
According to data compiled by Bloomberg, Chinese companies announced $18.3bn-worth of bids in 2011 for overseas oil and gas exploration and production companies.