Nissan Sunderland breaks UK manufacturing record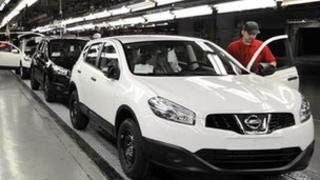 Nissan produced 480,485 vehicles at its Sunderland plant in 2011, up 14% from 2010 and a new record for a single UK car plant.
The growth was largely down to the success of the Qashqai models, of which just over 300,000 were made.
The crossover vehicle was the ninth best-selling car in the UK in the first 11 months of 2011, according to the SMMT, with 36,826 sold.
The plant also makes the Juke and Note models.
Nissan's vice president for production in the UK, Kevin Fitzpatrick, said that the company had managed to limit disruption from the Japanese earthquake and tsunami by cancelling some overtime work, extending the Easter holidays and shortening the Christmas break.
"We are now back to the volumes we would have expected to have for the year," he told BBC News.
The Sunderland plant has two production lines, one of which makes the Qashqai on three shifts, running 24 hours a day, five days a week. There are also overtime shifts at the weekend.
Extra staff were taken on to meet demand. There are now 5,462 people directly employed at the site.
"We can't make enough of the Qashqai," Mr Fitzpatrick said.
"There is less inventory waiting between the factory gate and dealers than there would normally be," he said.
"We certainly don't have fields of unsold cars."
Much of the demand comes from elsewhere in Europe, helped by the weakness of the pound against the euro.
Paul Everitt, head of the Society of Motor Manufacturers and Traders, said: "2011 saw the UK attract a remarkable level of investment, with global vehicle manufacturers committing in excess of £4bn to plants and facilities securing future model production and employment.
"Despite the uncertainty within the eurozone, there is real confidence in the future of UK manufacturing and it will make an increasing contribution to exports, economic growth and employment in the coming years."
Nissan is expecting further expansion at its Sunderland plant this year, with the opening of a facility making lithium-ion batteries for electric cars. It will start constructing Nissan's electric car, the Leaf, in 2013.