UK manufacturing declines less than expected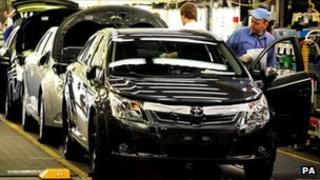 UK manufacturing saw a smaller-than-expected decline in December, thanks to new orders from Germany, China and eastern Europe.
The Markit/CPS purchasing managers' index (PMI) rose to 49.6 from November's figure of 47.7. A small fall in the figure had been expected.
Any figure below 50 indicates that the manufacturing sector is contracting.
However, figures for the fourth quarter of 2011 showed the sharpest fall since the second quarter of 2009.
'Temporary fix'
The survey found that the stabilisation of UK manufacturing in December reflected growth in new export orders, which made up for a weak domestic market.
"Looking ahead, manufacturers are currently relying heavily on backlogs of work to prop up production," said the report's author Rob Dobson.
"This is only a temporary fix, and the trend in overall order books needs to improve if the sector is to avoid a protracted period of lacklustre performance."
Lee Hopley, chief economist of EEF, the manufacturers' organisation, said there were positive factors to take out of the figures.
"Some sectors within manufacturing are still growing relatively strongly, confirming the dual speed recovery seen in the official statistics in recent months," she said.
Annalisa Piazza from NewEdge Strategy said the figures showed that: "The manufacturing sector is not on a verge of a deep collapse", but added that it "remains at risk in the coming quarters".
"The sector is highly dependent on exports to the euro area and the EMU crisis poses increasing risks to the sector," she said.