Iran's rial slides against US dollar on fresh sanctions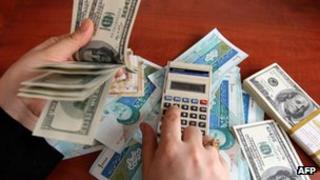 Iran's currency dropped 12% against the US dollar after the US unveiled fresh sanctions targeting its central bank.
According to reports, the rial was being traded at 17,800 to the dollar by money changers in Tehran on Monday, down from 15,900 on Sunday.
The US has threatened to take action against foreign firms and institutions dealing with the Iranian central bank.
The central bank's website showed the exchange rate as 11,180 rial to one US dollar.
'Force a choice'
The new measures could see the US deny access to its financial system to companies that do business with the Iranian central bank.
Analysts said the measures, which were signed into law by US President Barack Obama as part of a defence bill, may see companies and institutions become more wary of dealing with Iran.
"The sanctions will force a choice between buying Iranian oil or engaging in the US financial system, the largest in the world," said Brian Katulis of the Center for American Progress.
"That is going to change the risk calculus for a lot of folks."
This has led to speculation that some firms may now try to withdraw capital from Iran.
According to media reports, money changers in Tehran had stopped selling the US dollar in the hope that they will get an even better rate in coming days.