UK finance chiefs fear euro break-up, says Deloitte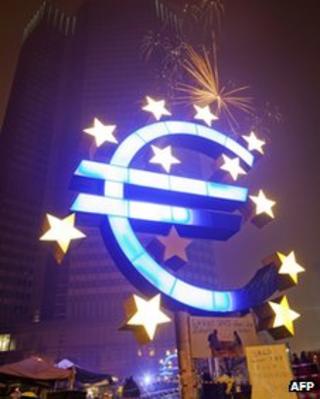 Finance chiefs at the UK's biggest companies think there is a one in three chance of at least one country leaving the euro this year, a report has said.
Accountancy group Deloitte also said firms were "unconvinced" by European leaders' response to the crisis.
Its survey of chief financial officers (CFOs) said most see a break-up of the euro as the biggest risk to their firm.
A separate survey has also highlighted a big fall in confidence among UK small and medium-sized enterprises (SMEs).
Lloyds Bank Corporate Markets said its monthly business barometer fell to its lowest level in three years in December.
'Double-dip'
Deloitte said that CFOs believe a collapse of the euro would have a severe effect on UK businesses, causing a new credit crunch and causing major swings in asset prices and exchange rates.
They now anticipate the UK will fall back into recession and are already reporting the sharpest decline in credit availability since the collapse of Lehman Brothers in September 2008.
"Against such a backdrop it is no surprise that a return to recession in the UK is, after the euro, the second biggest concern for CFOs in 2012," said Ian Stewart, Deloitte chief economist.
"CFOs are now working on the assumption that Britain will fall back into recession. They see a 54% chance of a 'double-dip', up from just 27% a year ago."