Hyundai and Kia predict slower sales growth in 2012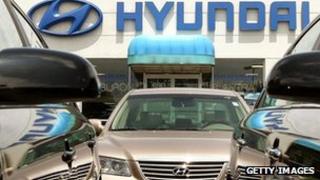 Hyundai and its affiliate Kia Motors have said they expect sales growth in 2012 to be sharply slower than 2011 due to the global economic downturn.
The South Korean carmakers said they expect sales to rise by 6% next year to 7 million vehicles. Their combined sales rose by 15% in 2011.
The group is the fifth largest vehicle maker in the world and performed well during the recession.
But the company said weak European growth will limit expansion this year.
"I expect the automotive industry to see growth slowing because of the European debt crisis and the global economic slowdown," said Hyundai Motor's chairman, Chung Mong-koo.
Competition
The company also expects increased competition from Japanese manufacturers recovering from last year's earthquake and tsunami.
"Hyundai and Kia have offered a conservative sales target based on the negative economic outlook," said car analyst Ahn Sang-jun from Tong Yang Securities.
"I expect it to be fully achievable and sales to reach 7.2 million [vehicles] next year."
The group has also said it is to invest 4.6trn Korean won ($4bn, £2.6bn) for fuel efficient and electric cars.
Last month, Japanese carmaker Toyota forecast a 20% increase in sales in 2012, to 8.48 million cars.