Viewpoint: Asian markets face volatile year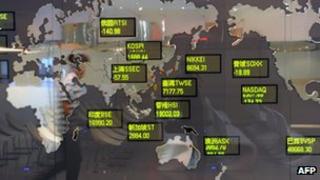 This year is likely to be very similar to 2011 where the major macroeconomic events are concerned.
The major issues of the eurozone crisis, the anaemic recovery of the US economy and the continued debate over the health of the Chinese property market and the ensuing discussion of whether it is going to be a hard or soft landing are still relevant and newsworthy.
What made the situation worse in 2011 were the natural disasters in Japan and Thailand, which proved to be pretty disruptive to the global supply chain for the auto and electronics sectors.
The high oil prices in the early part of 2011 added to market volatility at the start of the year.
The only difference for 2012 is that we believe the eurozone crisis will take centre stage for most of the year as the crisis has recently shown signs of deepening with Italian and Spanish bond yields spiking up to more than 7%.
Political uncertainty
The fact that we will have elections in France, Italy, and Greece will not help calm the markets.
Although elections generally do not have a major impact on the financial markets, they have taken a different precedence in recent times due to the sovereign debt situation.
Political continuity and stability would arguably be a key ingredient for any form of resolution where the eurozone is concerned but that is likely to be a pretty challenging proposition.
We also have crucial elections in Taiwan, Malaysia and the US towards the end of 2012.
Amid all this political uncertainty, what is certain about 2012 is that global economic growth will continue to be anaemic.
Although recent economic data from the US economy has proven to be encouraging, the disruptions to the global financial system caused by the deepening eurozone debt crisis is likely to disrupt the momentum somewhat, as Federal Reserve chairman Ben Bernanke mentioned just a month ago.
Tightening money supply
Given the prospects of weak growth, the current environment of low interest rates is likely to remain although credit conditions could potentially tighten, making it more difficult for corporates and individuals alike to borrow despite the low interest rates.
But why should credit conditions tighten in an environment where the Fed has pledged to keep rates at 0.25% at least till June 2013?
This is largely because we expect the European banks to shrink their balance sheets over the next 18 months.
Asia, excluding Japan, is somewhat dependent on the European banking system - Europe's banks accounted for 55% of the total foreign claims as of June 2011.
An orderly deleveraging by European banks caused by a shrinking of balance sheets would impact the region's trade financing costs; there will be further competition for loans, keeping the cost of funds high.
A disorderly deleveraging would see a repeat of what happened in 2008, where a sharp rise in risk aversion exacerbated the impact of slower capital flows.
In other words, apart from direct linkages through credit markets, a sharp rise in risk aversion could lead to a sell off in risk assets and ultimately large capital outflows as capital is being repatriated to home countries from Asia. This is a clear risk but not our base case.
Investment options
So what should investors be looking at?
With equity markets likely to be trading sideways albeit in a high volatility range, investors should continue to invest in defensive, high-dividend stocks and complement that with exposure to the fixed income space.
The stock dividends and bond coupon payments will provide a valuable income stream for investors as we expect the current environment of almost zero deposit rates, relatively high inflation to persist amidst slowing economic growth.
The Fed's conviction on keeping interest rates at current near zero levels for the next two years will probably mean US dollar-denominated investors are likely to seek higher-yielding alternative currencies.
The poor fundamentals of the US economy will also likely mean that the US dollar is likely to maintain its weakening bias over the medium term against most currencies, notwithstanding periods of heightened risk aversion which tends to see the US dollar strengthening, ironically, as the result of a flight to safe haven assets.
Add to this the Bank of Japan's decision to continually engage in so-called quantitative easing to weaken the yen and the Swiss National Bank's determination to peg the Swiss Franc at 1.20 to the euro means that major international currencies have more downside potential on a net basis.
Asian currencies should therefore continue their modest appreciation vis-a-vis the US dollar in 2012.
Gold should continue to be a part of investor portfolios as an insurance - especially against potential quantitative easing in the major Western economies.
Commodities are likely to remain weak and oil prices are not expected to overshoot their fundamentals.
The opinions expressed are those of the author and are not held by the BBC unless specifically stated. The material is for general information only and does not constitute investment, tax, legal or other form of advice. You should not rely on this information to make (or refrain from making) any decisions. Links to external sites are for information only and do not constitute endorsement. Always obtain independent, professional advice for your own particular situation.