India to lift ban on individual foreign stock investors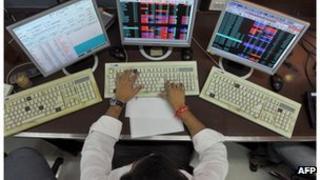 India's government has agreed to open up its stock market to individual foreign investors in an attempt to boost demand and liquidity.
The changes are expected to come into effect from 15 January.
India's stock market has been under pressure with the main Sensex index losing 25% of its value last year amid economic concerns.
The government is keen to stabilise the market and make it more attractive to investors.
Implementing this new rule will "widen the class of investors, attract more foreign funds and reduce market volatility and deepen the Indian capital market", the government said in a statement.
The change is being overseen by the Securities and Exchange Board of India, and Reserve Bank of India.
Limits
Previously, foreigners interested in investing in India did not have direct access to the market except via mutual funds.
Following the rule change, foreign investors will be able to directly buy and sell shares in the market.
There will, however, be some restrictions:
an individual and aggregate investment limit of 5% and 10% respectively of the paid up capital of an Indian company
they will have to trade via one account held at a "registered qualified depositary participant"
The relaxation of the rules will give investors greater scope for buying into one of the world's fastest-growing economies. According to Ernst & Young, India's economy has been growing an average of 8.6% over the past five years.
However a number of problems have capped that growth and made stocks seem a less attractive investment.
Inflation has proved a persistent issue and interest rates have been raised 13 times since March 2010 in a an effort to slow price increases.
At the same time the rupee has weakened against the dollar and British pound, and there have been concerns about the impact of Europe's debt problems and sluggish growth in the US.