Scottish mine a symbol of 21st century dash for gold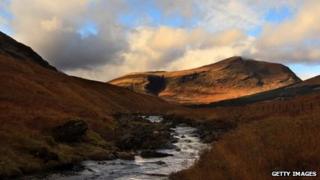 The remote village of Tyndrum, on the edge of the beautiful but desolate Rannoch Moor in the West Highlands of Scotland, is home to a handful of small businesses.
There's the Green Welly Stop, popular with passing tourists, a few hotels and a small village store. And then there's the gold mining company.
Scotgold Resources is based in the former ticket office of Upper Tyndrum Station, a tiny outpost on the West Highland Line railway.
From these cramped and rather unglamorous surroundings, the company's chief executive Chris Sangster is planning to open what will be mainland Britain's only working gold mine.
Priceless potential
The mine itself already exists in the form of an old exploration tunnel dug into the side of Beinn Chuirn, a 2,900 foot (880m) peak. The entrance is at Cononish Farm, a few miles to the west of Tyndrum.
Work first began here in the 1980s, but no gold has ever been extracted. Successive owners struggled to obtain permission to develop the site and to raise the funds they needed.
In the late 1990s, the price of gold began to fall, dropping from over $400 an ounce to less than $300. It made the project less attractive to investors and work was eventually abandoned.
Today, the Cononish mine resembles a Hollywood film set. The entrance is a narrow archway carved into the rock surrounded by a haphazard framework of rotting wood and rusting metal.
An old mining wagon sits on narrow tracks which stretch off into the darkness within. It's dark, damp and derelict.
But that situation is unlikely to last long. For the past decade the price of gold has been rising steadily every year, and since the beginning of the financial crisis in 2007, the increase has been dramatic.
In August, it reached a peak of $1,900 an ounce as fears for the health of Europe's economy and the US debt crisis drove investors to seek a safe refuge for their cash.
At these prices relatively small developments like Cononish make a great deal more financial sense.
The mine is expected to operate for eight to ten years, producing 20,000 ounces of gold and 80,000 ounces of silver a year
"Cononish is a quite high grade deposit, so it has a relatively low operating cost to produce an ounce of gold," says chief executive Chris Sangster.
"If you can pay back the capital you're always going to make a profit, because you've got a very good margin.
"The trick, because it's a relatively small project, is to get the project finance and the capital paid back at a time of high gold prices."
Risky venture
Raising the money needed has been difficult. When investors in Britain proved reluctant to back the project, Mr Sangster looked overseas.
Despite its name, Scotgold is an Australian company, and its shares were first listed on the Australian Securities Exchange, although it does now have a second listing on London's Alternative Investment Market.
"When we set out small mining projects weren't particularly fashionable in London," says Mr Sangster.
"In the end there was far more interest from Australia."
Environmental objections
The project has also had to overcome another significant hurdle. The Cononish mine sits at the heart of the Loch Lomond and The Trossachs National Park, an area renowned for its natural beauty.
In October, the park authority finally approved the scheme, but only after more than two years of negotiations.
There were initially big concerns over how spoil from the mine, known as tailings, would be dealt with.
"Our biggest concern was what it would look like, whether it would look natural, and the effects on biodiversity," says Fiona Logan, chief executive of the park authority.
"We were concerned about tourism too. But interestingly the local community were very much in favour.
"Mining, lead mining in fact, has always been a part of that area. The community felt they could exploit that cultural heritage and actually attract more tourists with a goldmine in the region".
According to Ms Logan, economic benefits, including the planned creation of 51 jobs, played a key role in the decision to approve the project
"In rural Scotland, we need to keep our local communities thriving," she says.
"Anything that supports that goal is a positive step".
Global gold rush
The story of Cononish is far from unique. Around the world, mining ventures which might once have been deemed too risky or not profitable enough are now looking financially attractive.
Among them is the quirkily named Red Rabbit project at Kiziltepe in western Turkey, led by the London-listed mining firm Ariana Resources.
It has the potential to produce gold and silver worth hundreds of millions of dollars. But the initial investment is high at about $26 million.
Under those circumstances, a high gold price makes a huge difference, according to Ariana's managing director, Dr Kerim Sener.
"Our project would not have been economic at $300 an ounce," he says.
"It's economic now because we're seeing prices well in excess of $1,000 an ounce, and there are many other examples of projects like this around the world."
Risky investment?
But if projects like these are to remain viable, they need the gold price to remain high for years to come. The question is whether or not that will happen.
At the moment, gold is a popular investment among those looking for a haven from political and economic uncertainty in Europe and America.
That is helping to keep prices strong, according to Marcus Grubb, head of investment research at the World Gold Council, which promotes the industry.
But the bulk of global demand still comes from buyers of high quality jewellery in China, India and East Asia.
An economic slowdown in the big Asian economies could potentially undermine the gold price if it hits demand for jewellery.
"A major slowdown in growth in India or China or both would certainly be a negative scenario for gold," says Mr Grubb, although he points out that for the moment, buyers remain enthusiastic.
So like the political situation in Europe and the economic outlook in Asia, the prospects for gold are far from certain.
If the price remains high, the scramble to open new mines is set to continue. But if it falls back, this 21st century gold rush could easily slow to a crawl.