Libya's commercial hub recovers slowly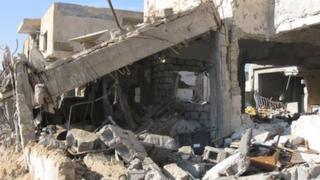 A seven-storey apartment block on Tripoli Street is riddled with bullet holes.
Its walls have been blackened by smoke and a large chunk has been ripped out of its roof by a tank shell.
On the ground floor, what was once a shop is now a mess of twisted metal shelving, broken glass and the burnt remains of whatever the store used to sell.
This is typical of the buildings that line Misrata's main road, a long, wide avenue that was home to the city's main shops and businesses until they were destroyed during the war.
Months after the end of the conflict in Libya, it is still uncertain what will happen to the main street of the country's commercial capital.
At least half the buildings will have to be knocked down, according to Professor Mohammed Sassi, an engineer from Tripoli University.
"We have to test all the columns, the roofs, the walls. We will then decide what to rebuild or demolish," he says.
"Most supermarkets and all the social affairs were mainly on Tripoli Street.
"We are looking forward to make it better than it was before."
Looted
The occasional business is managing to reopen.
Shopkeeper Esidene Sawesi has scraped together the 7,000 dinars ($5,500, £3,600) needed to repair and restock his convenience store on the ground floor of an otherwise badly damaged block.
"The building was hit by tanks and cannon. It was then taken over by Gaddafi's troops. They stole everything in the shop. They even broke the shelves when they left."
Now the store has had a complete re-fit.
Boxes of toothpaste and cigarettes are neatly stacked on new glass shelves behind the counter.
"Fixing everything up took longer than it should have done because there was a shortage of some of the building materials," Mr Sawesi explains as he shovels dried beans into a plastic bag.
"I had to pay for it all myself. It was difficult for me to fund this. But we're standing on our own two feet again."
With no other general stores nearby, he seems to be doing brisk business.
But such a quick recovery is the exception.
Banknote shortage
At the huge two-storey Alqudra market on the edge of Misrata, 10 shops have reopened.
It had 750 traders before it was taken over by Colonel Gaddafi's army.
The sewage, electricity and phone systems still need to be fixed.
But repair work is taking a while, partly because of a shortage of banknotes.
"It's having a huge impact," says the market's chairman, Mohammad Algwail.
"Unfortunately, unless this problem is resolved it will be an issue that will confront everyone who wants to do something in Libya, regardless of the size of their project."
Banks have introduced a monthly limit on the amount of cash people can withdraw.
That should ease when the central bank receives more of Libya's foreign assets, which were frozen by international sanctions.
It will then be able to get enough Libyan dinar notes to meet demand.
"We're told this will be resolved very shortly," says Mr Algwail, who hopes to be able to reopen fully soon.
Armed rebels
At the entrance to the market, two young men are sitting in the shade holding machine guns.
Parked next to them is a civilian pick-up truck with heavy artillery bolted on the back.
The men are former rebel fighters. They are standing guard, and they look bored.
There are thousands like them across Misrata.
Many are unemployed or gave up their studies to fight against Gaddafi's troops.
Rida Zaroog, 20, dropped out of university in order to fight.
Over a meal of spicy lamb, boiled rice and vegetables, he says he is now back on his course and has high hopes for his future - but he has still got his gun.
"Before, everything was controlled by Gaddafi himself and his entourage. Now, everyone will stick together and help each other and it will be a wonderful new country," he says.
Pay rise
Mr Zaroog's father, Taher, says the family is already seeing improvements in their living standards.
"Before I had to work sometimes three different jobs in one day. Now I feel the government is supporting us. My salary has increased," he says.
But he is nevertheless concerned that food prices might rise if the interim government - which is strapped for cash at the moment - decides to cut back on food subsidies.
Libya imports most of its food. Indeed, the country imports pretty much everything it consumes, apart from oil.
The all-important oil industry is ramping production after it was reduced to a trickle during the fighting.
One of the new government's biggest challenges will be to diversify Libya's economy away from oil, and so create jobs for the many young, unemployed former rebels.
Diversify economy
In Misrata's port, a massive yellow crane is loading containers onto a rusting black ship.
When the boxes arrived from Turkey they were full, but they are being sent back, totally empty.
The man running the port, Jalil Hamid El-Gamal, wants that to change.
"Libya has no exports except for oil," he says.
"As for imports, we see plenty of cargo arriving, such as flour, general goods and construction materials."
"We hope Libya will be an exporter, and not just of oil."
That will depend on what the private sector does. Libyans were not encouraged to set up businesses or get rich under Gaddafi.
Even so, some did, such as Mohamed Raied, the chairman of Al-Naseem dairy, one of the biggest private sector companies in Libya.
Mr Raied says Libyans could easily set up firms like his.
"Libya is a very big country, with a lot of raw materials, a lot of facilities, a lot of people who like to work, a lot of capital also," he says, standing next to a bombed-out warehouse at his factory complex in Misrata.
"There are a variety of fields to do business - tourism, industry, agriculture and services."
He says the future could be very bright for Libya's economy .
But he says his company has lost a lot of money this past year as it was not able to sell its ice cream, yoghurt and milk to 90% of Libya during the war.
He seems unconcerned, though.
"Our profit is removing Gaddafi," he says.