Spain sets out 8.9bn euros of new austerity measures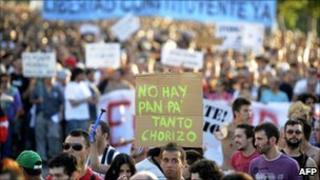 Spain's new conservative government has outlined 8.9bn euros ($11.5bn, £7.5bn) in new spending cuts and tax rises to lower the country's borrowing.
The announcement is the first in a wave of austerity measures, with a total of 16.5bn euros to be cut in 2012.
It also said Spain's 2011 deficit will be about 8% of its output - higher than the 6% seen by the previous government.
The Popular Party last month ousted the Socialists from power at elections amid deep economic gloom.
The government of new Prime Minister Mariano Rajoy has vowed to meet Spain's target of reducing the public deficit to 4.4% of gross domestic product in 2012, no matter what.
On Friday, Deputy Prime Minister Soraya Saenz de Santamaria maintained a freeze on public sector wages for another year and ruled out practically all government hiring.
"This is the beginning of the beginning," Ms Saenz de Santamaria said.
"We are facing an extraordinary, unexpected situation, which will force us to take extraordinary and unexpected measures."
Taxes on the wealthiest Spaniards will also be raised for at least two years, raising 6bn euros, she said.
Spain's borrowing costs have jumped in the last year - reaching as high as 6.7% for 10-year debts - as investors feared that Spain might join Greece, the Irish Republic and Portugal in needing a bailout.
The country's economy has shrunk sharply since a housing bubble burst in 2008, and it has an unemployment rate of 21%, the highest in Europe.
The austerity measures have sparked a number of large protests across the country.