Deutsche Telekom settles bribery charges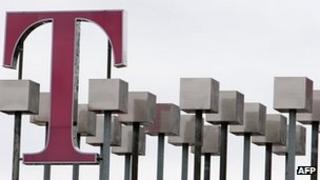 Deutsche Telekom and its Hungarian subsidiary Magyar Telekom have agreed to pay more than $95m (£62m) to settle US charges that they bribed government officials in Macedonia and Montenegro.
As part of the deal, the Justice Department said it would not prosecute the firms for two years if they abide by the law and improve compliance.
The payment also covers charges by the Securities and Exchange Commission.
The individual executives involved deny any wrongdoing.
The agreement reached with US authorities by the two companies includes $64m in criminal penalties and $31m in civil penalties.
The charges relate to alleged payments made in 2005 and 2006 by Magyar to Macedonian officials in order to help keep rivals out of the domestic telecoms market.
In Montenegro, Magyar was charged with paying officials to help secure more favourable contracts.
Magyar was listed in the US which gave authorities there jurisdiction over the company.