China 'to withdraw' foreign car investment support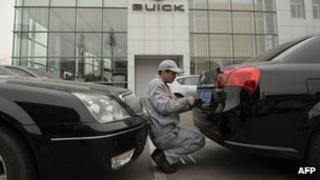 China has said it will withdraw support for foreign investment in the country's car industry to encourage domestic carmakers, according to state media.
The Xinhua news agency cited a joint announcement from the Ministry of Commerce and the National Reform and Development Commission.
The report did not provide details of what support was being withdrawn.
Some of the world's largest carmakers, including America's General Motors and Germany's Volkswagen, operate in China.
The country is the world's largest car market.
According to Xinhua, Beijing will "withdraw support for foreign capital in auto manufacturing... because of the need of the healthy development of domestic auto making".
A number of the world's leading carmakers, particularly luxury brands, are focusing on boosting sales in China to compensate for weak demand caused by slow economic growth and the eurozone debt crisis.
Earlier this month, China said it would levy duties on some cars made in the US.
China's commerce ministry said in a statement that vehicles were being dumped on the Chinese market, causing damage to the domestic industry.