Reckless or reliable? The people who work with danger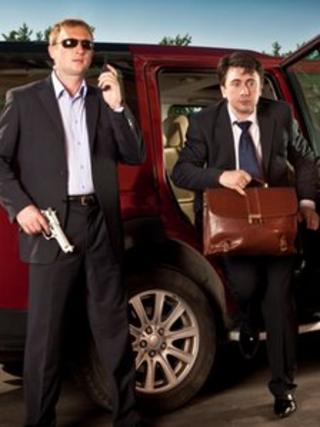 "A typical day would start with meeting the bodyguards, getting into the armoured car, and zooming off to one of the ministries. A place with so much violence - but with such hospitable people - is intriguing."
Not the sort of working environment you would associate with a chartered accountant, but Adam Bates specialises in forensic accounting for KPMG, and was on the trail of former Iraqi dictator Saddam Hussein's missing oil-for-food millions in Baghdad.Reckless or reliable? The people who work with danger
Adam says: "You sit in the armoured car in your pinstriped suit with your briefcase on your knee with the bodyguards around you - a big grin on your face."
Accountancy would not be the profession that sprang to mind if you were asked to name a dangerous job.
How about Jesse James's profession: "I spent 16 years as a bomb disposal expert in the army before joining MAG (Mines Advisory Group) International in 2004 in mine clearance. Since then I've worked on the Iraq programme, as well as in Lebanon and South Sudan."
Another might be close protection work, of the kind that kept Adam Bates safe. Formerly a soldier with the Parachute Regiment and SAS, Stuart Gilks did this in Baghdad and Afghanistan in 2004 to 2006.
"Baghdad was without a doubt the most dangerous area you could end up working in, particularly the route between the airport and the [safer] Green Zone. Every day you would see debris along the road - and some of our colleagues were caught up in that."
But as Adam Bates exemplifies, even the most sedate-sounding jobs can get tricky if being carried out in a certain country, and that does not have to be a war zone.
International SOS employs about 10,000 people in 70 countries, helping organisations manage the medical and security risks faced by their employees.
Arnaud Vaissie, its co-founder and head, says there is a surprisingly long list of dangerous countries: "Our clients listed 89 - almost half of the 195 or so countries - that they thought could be dangerous."
Road kill
At face value, he says, some hardly appear to be so: "Take the Maldives - a wonderful country but from a health point you need to plan for it.
"There are also the countries that are reasonably well organised, but where the transportation accident ratio is a multiple of 10 of the accident rate you have in the UK."
Richard Fenning, the chief executive of Control Risks, a global risk consultancy that helps organisations that work in complex and hostile environments, agrees that transport is the major threat: "The reality is - even in the most dangerous countries in the world - the biggest danger comes to you from a road traffic accident.
"Even if you are visiting countries with high-profile security risks, such as Afghanistan or Iraq, this should still be a significant focus."
There can be heavy financial costs when things go wrong.
In 2008, the US Department of Labor reported the cost of accidents in the US to be $1bn (£0.64bn) a week in both direct and indirect costs.
More recently, BP, with its billions set aside to cover the Mexico gulf installation explosion, is an outstanding example of this.
Evaluating the cost of accidents is one thing - trying to stop them happening is another matter.
International SOS provides an online system that can be accessed via PC or a mobile phone called Travel Tracker which enables employers to keep track of their employees.
Arnaud Vaissie says this gives them a very detailed picture: "You can triage your employees in all situations live and you can then identify which employee needs help.
"We have analysts 24 hours a day looking at health and security risks around the world. They would identify, for example, whether there was a terrorist threat in Jakarta. We would then see who was at risk from that and we would push information at them."
Person at risk
SHL is a talent measurement company that helps companies to recruit and develop talent to support their organisational objectives. One of its areas of expertise is to help organisations find the right sort of people to employ in high-risk jobs and environments by providing scientific assessments of people in the workplace.
One of the greatest risks is not necessarily the job - or even the environment in which people have to work - but the person doing it.
Its chief science officer, Eugene Burke, says 60-80% of workplace accidents are attributed by various industry surveys to operator error: "We've been looking at this since 2004. There is quite a lot of research into types of people associated with accidents."
He says those less likely to be a risk to themselves or others have certain qualities: "Attention to detail, the ability to think forward and follow the procedures, and be aware of the impact of what they do.
"The right sort of person will keep others informed. They will also show more responsibility - if they see something wrong they will be more likely to point it out."
The oil company Shell says safety is its top priority - an attitude that is imbued in Peter Reilly. As a former offshore installation manager for Shell in the North Sea, he says everyone working on an oil platform operates according to a set of rules.
In his view this means people are less at risk than those working on solid ground: "A pipefitter working onshore may be less safe than one working with us offshore because we are all trained to be aware of each other.
"We also get feedback from new people coming off the rig who may have seen things that we have got used to."
Shock
Stuart Gilks now works as lead trainer for security giant G4S, whose 600,000-plus employees make it one of the world's largest private employers.
Its activities include training people for work in hostile environments.
His own experience as a close protection officer has not only helped him professionally, but even helped on holiday in Tanzania: "I was looking for somewhere to eat in Dar es Salaam and became aware that four people were following me.
"It was quite obvious to me - although maybe not to others - that they were planning to rob me, and I had a couple of thousand dollars. There was no safe area to move to, so I walked back to them. It was the only route I knew.
"I looked them in the face and they were so shocked at my reaction it switched the initiative in my favour and I was able to move away safely."
Eugene Burke says the sort of person who is more likely to have an accident is also more likely to be on the receiving end of something dangerous.
"Look at security guards - for one company we found that the odds against an accident were are 19-1. But those who lacked the right approach were six times more likely to have an accident. They were also six times more likely to be involved in some form of attack.
"Why? Well criminals target the less diligent crews and the more accident-prone members are also more likely to be involved in an accident too."
Control Risks' Richard Fenning says it is important to maintain a sense of vulnerability: "You get people who start to collect dangerous locations and who become addicted to the risk and become gung-ho.
"You need people who are not trying to win any medals or make a hero out of themselves and it is incumbent on companies to get this right."
Addiction
Why would someone who met the careful and observant personality type that most companies see as the safest for undertaking a dangerous job, enter in to such a risky environment?
Matthew Harding, G4S's managing director of risk consulting says some people simply find the stable working environment dull: "People get very keen on the atmosphere of such jobs - if you look at those who work in these environments they tend to work in them for many many years.
"I have a lot of ex-soldiers who are doing very challenging jobs in difficult circumstances."
Forensic accountant Adam Bates still goes out on short-term foraging jobs in dangerous places: "It is a stereotype to say that everyone who joins a firm of chartered accountants is boring and grey and doesn't look for excitement in life.
"You could definitely get addicted to working in a dangerous environment."
Saying goodbye
Most people engaged in dangerous occupations have very cool heads.
Jesse James says mine clearance "is pretty mundane and complacency is a worry. It is the same job month after month."
Peter Reilly says the most difficult part of his job is not flying over the North Sea in a helicopter to a piece of iron on legs for work, it is being away from home: "One of the first people I worked with was a Royal Navy officer. We though he would be OK as he had been used to being at sea for five months at a time.
"In fact he lasted only a few months and then looked for an office job - he simply found it too hard to have to say goodbye to his family every other week."
MAG's Jesse James picked an incident involving an unlikely detonator when asked to single out his most scary experience mine clearing: "I was working with a colleague who uncovered what looked like a mine. He came back down the clearance path for me to take a look.
"But before I could, a herd of cattle came out of the bush and walked right over the mine that I was walking towards. Luckily none of them stood on it."
G4S's Stuart Gilks is now living in Herefordshire as the company's director of training, teaching others about keeping safe where he "now cycles to work, rather than bumping along in an armoured vehicle".
He says there are not many adrenaline-chasers in his line of work: "It's not about thrill-seeking. I don't know anyone that does what we do seriously for thrills or kicks. You might get some at the low end of the industry that like hiking around with guns and bullets but I'd be very cautious of anyone with that attitude."
He says: "Some people say you need to be of unsound mind to do this job. I would say it is completely the opposite - a job for the mature, thoughtful type."