Rent-to-own credit sector 'morally bankrupt'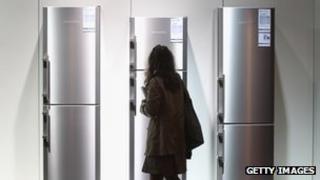 Families on low incomes are being exploited by so-called rent-to-own suppliers of household appliances, a children's charity has warned.
Barnardo's said rent-to-own lenders should be forced to display the equivalent High Street price of the product and make interest rates clear.
It said the Office of Fair Trading must address the "morally bankrupt" market.
One leading rent-to-own lender said its services allowed consumers to buy items that may otherwise be too expensive.
Brighthouse said it was a "responsible lender".
"Our rent-to-buy model allows low-income families access to a range of products that they might not otherwise be able to afford," the company said in a statement.
The OFT said that actions needed to force market changes were beyond its remit.
Barnardo's said consumers were paying up to 150% more for some standard household appliances.
It cited a three-year rental arrangement with a well-known weekly payment store that cost £1,074 for a fridge freezer, compared with a High Street price for the same product of £430.
Poverty push
"In these tough economic times, the most vulnerable families in society are being lured into an unaffordable debt trap by a morally-bankrupt lending industry," said Barnardo's chief executive Anne Marie Carrie.
She called on the OFT to protect families from being "unwittingly pushed further into poverty by compelling these unscrupulous lenders to make clear their extortionate rates".
As well as increasing transparency and regulation of rent-to-own companies, she also called on the government and financial services industry to take action.
"[They] need to look at how people on low incomes can get access to mainstream financial services that are fit for purpose so you can get a bank account that has a direct debit facility, so that you're not paying this poverty premium," she told Radio 4's Today programme.
"They're paying it for gas, for electricity and now they're paying it for other basic items like cookers and washing machines."
Wider credit
The OFT said it had looked into the high-cost credit market in June 2010, and made a number of recommendations to the government.
However, it said these would have "limited effect" on the market.
The kinds of action needed to effect real change, such as intervening in the market to expand the availability of credit, were "outside of the OFT's remit".
In June last year, the OFT also looked at pawnbroking, payday loan and home credit businesses. It backed away from recommending price controls on expensive forms of short-term borrowing.
It said although such borrowing was costly, it met a need for people who could not otherwise borrow cash.