LCD firms in $553m US price fixing settlement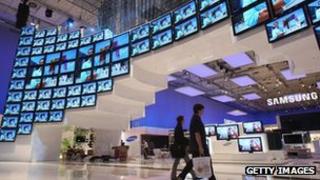 The world's largest electronics manufacturer, Samsung, and six other LCD screen manufacturers have settled claims they conspired to fix prices.
The firms were accused in 8 US states of working together to raise the price of screens for TVs and computers.
Despite the $553m (£357m) payout they have continued to deny responsibility for the claims.
However New York Attorney General, Eric Schneiderman, said the result was a victory for states.
"This price-fixing scheme manipulated the playing field for businesses that abide by the rules, and left consumers to pay artificially higher costs for televisions, computers and other electronics," said Mr Schneiderman in a statement.
The firms involved in the settlement were Chi Mei Innolux, Chunghwa Picture Tubes, Epson, HannStar, Hitachi, Samsung and Sharp.
Samsung has agreed to pay $240m, Sharp $115.5m and Chimei Innolux $110m.
Some $501m will be allocated for partial refunds to buyers who bought goods containing the LCD panels made by the firms.
Around $37m is being paid to governments to settle claims for fines and other legal damages.
The agreement involves panels sold in eight states; Arkansas, California, Florida, Michigan, Missouri, New York, West Virginia and Wisconsin, whose attorney generals were named in the settlement.
They claimed that the companies worked together to artificially inflate the price of products between 2001 and 2006.
It follows a $388m deal earlier this month with firms who bought the panels directly from the companies.