China dairy destroys tainted milk promises tough checks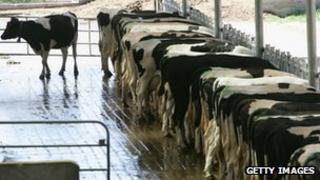 China Mengniu Dairy Company said it has destroyed a batch of milk found to have elevated levels of a cancer-causing substance aflatoxin.
The company said none of its products currently being sold were affected and that it will implement tougher safety checks going forward.
It has blamed spoiled cow food for the contamination.
Shares of Mengniu, China's biggest dairy company, fell 21% on the Hong Kong Stock Exchange.
"At present, all products available in the market within and outside China, including Hong Kong, have passed relevant standards," Mengniu said in a statement on its website.
Panic selling?
Despite the assurance by the firm, its shares fell to a two-year low on concerns that consumers may avoid buying its products in the short-term.
"Panic selling has dragged the stock down as the scandal hit in a quiet and nervous market," said Alfred Chan of Cheer Pearl Investment.
However, analysts said the impact was likely to be temporary as the company had destroyed the products before they reached the market.
"We do not think the impact will be as serious as the melamine scandal, since there have not been any reports of directly related health cases," the Royal Bank of Scotland said.
The melamine scandal, which broke out in 2008, resulted in the death of at least six babies and another 300,000 fell ill after drinking tainted infant formula.
China has been trying to streamline its dairy industry after that scandal.
Earlier this year more than 500 dairy producers were ordered to halt production, following a government safety audit.